The Importance of Full Inspection in China
Not all buyers can afford an inspection service when importing or buying goods from other countries. But do you know that taking a full inspection of your package before shipment will make you save and guarantee growth in your business?
Today, when companies buy from China, there are many options for extra services. These additional services bring benefits to ensure that you can save time and money when making orders from your new or even long-time suppliers.
How important is a quality inspection to you? Our topic will focus on discussing China product inspection. Is it worth it? Is it needed when you are buying in bulk or wholesale? We will cover what you need to know, tips, and a guide to full inspection service.
1.What is a Full Inspection in China?
In the past years, buyers did not trust the sellers in China because of problems they saw once they received their orders. It includes product damage. Some damages have no remedy, and they must dispose of the products. For them, it is a total waste of money.
Over the years, suppliers improved their services to build trust and confidence with buyers. The inspection service will help them reduce the risks of receiving wrong and damaged products.
A customer can request a product inspection during or after production. In these stages, the client will know whether everything is running smoothly. If there are errors, they can be resolved right away.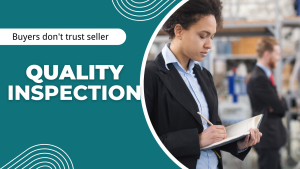 1)Types of Quality Inspection
There are various types of Quality Inspection you can avail. It will help if you have procedures that check the quality of the products you deliver from China to your customers. And it will benefit both them and your company by having good deals.
Piece-by-Piece Inspection
This is the complete or 100% Inspection. It allows you to check each product for flaws or faults and scans every manufactured product in an order. Piece by piece Inspection China helps you maintain quality.
The inspections are done after production and before releasing the products? It ensures that your goods are correct before giving them to your customers. It lets you prove that your products are reliable.
Foreign Quality Inspection
The inspector will look at your product, take pictures, and then write a report about what he found wrong. You can then compare this report with your own and ensure you're happy with the report.
This type of Inspection is good for smaller companies that need more time or help to hire their staff to do this kind of work.
In-Country Quality Inspection
An in-country quality inspection is the best option for you because no language barriers or cultural differences are involved in this kind of Inspection.
Sort Inspection
Doing Sort Inspections is through each piece, but the goal is to find a single mistake from a product. Every detail is checked, but only for a specific issue. This process is during a routine examination.
For example, a clothing manufacturer may find out during a check that there is a mistake in the design of a shirt. And yet they must get the shirts to the merchant as soon as possible. A sort inspection "sorts" through each jersey to remove the defective goods to check for proper coloring.
After the factory has located and corrected the issue, they can dispatch the good items and discount or remake the flawed ones.
Final Random Inspection
FRI is complete after production, and almost all of your goods are okay for shipping. Randomly checked items include a personal inspection to ensure the goods pass your standards. It is a part of guaranteeing no flaws in your supplies.
Consider these factors when selecting an inspection type:
Quantity
Applying Quality Inspections will be more time and money-effective if you have a volume of goods. Having all your goods checked might be helpful if there are fewer goods since this would make the cost of inspections comparable.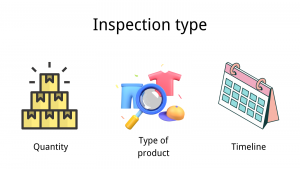 Type of Product
A complete inspection of your goods may be helpful if you produce quality goods. It is fit and always better for daily customer goods.
Timeline
You will need to choose the suitable type of Inspection for your products. It is vital to set a realistic timeframe in your production schedule. Choose the one that will be quicker yet still effective.
2)When do you need a full inspection service in China?
Full Inspection China is needed when the cause of damaged products is during delivery or manufacturing. It will proceed if there is a fault that affects the safety or function of the product.
The Inspection must correct the flaws before they lead to product failure. The main purpose of such a service is to ensure that the product is safe.
The following are other cases you may consider in which you may need to have a Full Inspection Service:
1.You make high-value products, such as jewelry and electronics. They possess extensive specifications and demand meticulous quality oversight.
2.You should prioritize product safety, especially regarding merchandise intended for children.
3.Top product grade is vital to your business; you do not want to make flaws.
4.You are unable to go to the factory physically. Thus, you are unable to verify their capability and quality assurance measures.
5.You should consider reducing your cost if a customer returni a flawed product, whether it be the cost of the product or the return shipping.
Knowing these cases when you will need the service will allow your company to grow more and earn more money. You will not have any flops and give your company a more prominent name.
2. What are the Benefits of Full Inspection Services?
1)Why is having Full Inspection Services important in China?
There are three main reasons that are very relevant:
Determine important decisions
Inspection helps you better understand what your customer needs and does not need. Full Inspection Services will help you make more informed decisions about buying or selling your products.
Create an ROI for you
It also ensures you are getting a good deal for your money, saving you money and time in the long run.
Have peace of mind
Another reason why having a full inspection service is essential in China is that it gives peace of mind when dealing with others who cannot do so.
Suppose there are any issues with the product. In that case, you will know faster than waiting until after a closing day or, even worse, after signing a contract with someone who did not understand their product.
2)Advantages of Full Inspection Services in China
There are many advantages of Full Inspection Services in China. Assists in saving time and reducing expenses. You can avoid any unnecessary waits and costs by using this service.
It is vital to the overall quality management system. When you import goods from China, you must watch out for the local standards and regulations. With the help of full inspection services in China, you can check whether your goods meet all the required standards.
Here are some points for you to help understand what will be the advantages of Full Inspection when importing from China:
You do not need to worry about discrepancies between the samples and your finished products.
It saves your time and money, as you do not have to waste your time checking each product separately.
It helps you avoid delays in shipping your goods.
The quality of every single product is sure and secure.
The service cost is valid if you order a small rate product from China to test your product.
Improving product quality allows for validation of your product concept.
Enhances customer satisfaction and decreases product returns.
Enhances your understanding of your supplier's capacity and whether a long-term partnership is feasible.
3. What is the difference between other product inspection services vs. Full Inspection?
As a retailer, you want to ensure your products are in proper condition before selling them. You also want to know how to use your products and what likely issues may arise. You must inspect your product before it reaches the customer to minimize risks and losses.
1)What is the difference between these product inspections?
A Full Inspection looks at all aspects of the product. The pre inspection can only catch some random issues or flaws.
It gives you the edge of ensuring that your products have good quality and pass the standards. It allows you to gain more profits instead of losses. Your customers will be happy with your outcomes and give you their trust.
A Full Inspection is a process performed by an inspector to check the quality of products. It is for a specific product, brand, or a specific type of product. This service satisfies you and your customers with the money they are spending. It can be done onsite or in the factory.
Sometimes you need to inspect a product before you buy it, but sometimes you need to get a product checked after you buy it. Other than Full Inspection, their methods may also include:
In-House Inspection
The employees in your company who know the processes do this type of inspection. They can check if the products are correct while still in the factory.
Inspector-in-charge
This person knows to see flaws in a product's quality. He sifts through the item and ensures that there is no damage. They are responsible for all product aspects during creation and testing.
Product testing
China Product Inspection determines whether a product meets specific standards by its manufacturer or supplier. There may be more than one test performed on each item before it leaves the factory floor.
Tester
A tester is known as a "QC" or quality control person. They usually work for manufacturing companies but can also work for other industries like medical supplies, automotive, and food. Simply put, Full Inspection entails a piece-by-piece examination of your product by our inspector.
Full Inspection is the most comprehensive product evaluation among Initial Product Check, During Production Check, and Final Random Inspection.
However, due to the quantity of items to be examined, it may be more time-consuming and costly compared to the others. If ensuring every aspect of your manufactured product meets your quality standards is a priority, Full Inspection is a suitable option for you.
It frequently guarantees the production and shipment of top-quality merchandise and can help avoid costly and time-consuming product batch rework or rejection.
4. What are the Full Inspection Processes in China?
So you might be wondering how the inspection process goes in China. Is it just a simple process, or is it a complex one? To help you understand, there are four inspection stages during a full inspection.
When you hire an Inspection company in China, there are things that they look at and follow. We will enumerate them for you:
1.The first step in the inspection process is to know if your product complies with the applicable standards. Decide between on-site or remote inspection.
2.Provide your production specifications or pre-approved samples. You make sure that it is the final design of your product. Do not forget the correct dimensions of it.
3.Know whether your product complies with the applicable standards and meets the required specifications.
4.The inspectors check your product, each part according to your quality requirements. They can inspect before or after packaging.
5.Inspection Report will be ready for you after completing the inspection. The report may take 24 to 48 hours.
6.If these tests pass, you can proceed to your next step: quality control.
Before making a purchase, it is important to verify the quality of the products and services by conducting an inspection. Let's go through each one:
Quality Control Inspection 
Before shipping it to you, this initial stage checks whether the product meets all requirements and specifications. It is done at the factory or manufacturing area.
Packing Inspection
This stage of quality control checks if all your packed products are okay and undamaged before they leave the factory.
Loading Inspection
Another quality control stage checks if loaded trucks are in good condition before leaving the factory.
Shipment Inspection
This quality control stage checks whether all items have been loaded onto trucks properly before they leave the warehouse or factory. Then be transported to their destination for final inspection by consumers, who will receive them soon after that (if not already).

1)Things to include in the Quality Control Checklist
A quality control checklist is essential for monitoring your products, services, and processes. It also helps you to identify potential issues early on and take action before they lead to a significant problem.
All organization members should use quality control checklists except those directly involved in the day-to-day operations.
The following are essential things that you need to include in your quality control checklist:
Product name, your company name, and other information showing who your company is and what you want for it.
State the description of the products or services you want to give to your customers. It will help the inspectors know what you want to sell.
Supply Chain management details (where from it is made.) It will allow inspectors to know whether your supplies are from a legal supplier.
Packaging Details such as the container, color, size, and others let the inspectors know what to check.
Distribution channel details showing how and through whom it will reach customers. It allows you to let them know how your products will be delivered and keep track.
How many times does a problem or issue happen? If yes, what action was taken? Was it effective? Having a solution to it will also allow improvements for your company.
If yes, how much time did this issue take to resolve? Knowing and giving this info may help solve future issues faster and better.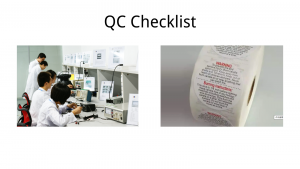 It is necessary to communicate your product specifications to the supplier using a QC checklist prior to finalizing the order or starting production. The QC checklist should detail the product requirements and quality standards the supplier must meet and provide objective inspection criteria.
Your QC checklist should include the following criteria:
Include material, height, weight, and other aspects.
contain proper packaging, an essential compliance requirement in many industries. Certain merchandise requires certification and labeling by accredited laboratories.
Visual inspection and onsite product tests and checks
Include visual inspection, on-site product tests, and checks in your checklist to inform your supplier.
QC inspections categorize defects into minor, major, and critical. Always furnish your quality control inspector with an approved sample from products, images, or videos.
When importing a product, specify the guidelines for testing its functionality. This information will enable inspectors to understand the intended use and operation of the product.
· Special tests
For certain products, like pharmaceuticals or chemicals, samples are sent to a laboratory for quality analysis based on the importer's specifications. 
· Carton drop tests
This tests the packaging's toughness and strength before it's used for shipping, indicating its ability to withstand stress.
Know that the delivery of your products is not always smooth. Factors such as the road, waves, or turbulence depend on how it is shipped.
5.How do You Choose the Right Quality Inspection in China?
Choosing the correct quality inspection in China for your business is vital because many factors influence the decision. It can be hard to know what kind of supplier you need and how to find them.
Here are some tips on choosing the correct quality inspection agency in China:
Look at the standing of different suppliers. If they have a good standing, they will be able to do a good job for you.
Do some research on your suppliers' competitors. It will give you a concept of how well they do their job and how reliable they are as a business partner.
Ask for recommendations from other companies that have previously worked with suppliers in China. These may include customers, other businesses, or even employees at your company!
Ask past clients about their experiences with suppliers from different countries and cities around China to get an idea of what kind of service they received from other countries.
You make sure that yourcompany holds the AQSIQ license for giving quality control in China and has a certification for ISO 9001.
A trustworthy quality control firm offers various inspection services, including pre-production, pre-shipment, container loading supervision, online inspection and auditing, and environmental audits, to ensure your products meet the highest standards.
Hire a company with relevant experience and knowledge of your product type for accurate quality control decision-making.
You ask for previous reports they gave customers to evaluate their capability to provide professional and transparent reports.
Ensure the company comprehends your quality standards.
Hire a company that provides clear pricing for its quality control inspections, allowing you to plan your budget and determine the total cost of importing.
6.FAQs
1) What is the cost of a China Quality Control Inspection service?
The cost of an inspection in China ranges from $180 to $320 per person-day. It typically includes the cost of travel for the inspector. Note that Inspectors charge per person-day, so it will base on the time it takes to review all your products.
2) What do you see in a QC report?
The QC report shows a high-level summary of points you can use to evaluate the data quality. The quality control report shows all the testing units used for the inspection. It determines if they are within the specifications for the final product.
3) When should you hire a Quality inspector?
So usually, you hire an inspector during production is done after finishing 10-30% of your products. Verifying the manufactured and packaged items is most importers' typical quality control solution. This will ensure that your products meet the local standards.
4) How long do you get a QC report?
Reports from China Inspection Company are sent out within 24 to 48 hours of completion in China. Some companies may give it to you on the same day for an additional fee.
5) What are some challenges during a QC inspection?
There are many factors why QC issues occur. Some can create a new category within themselves. Here, we can discuss the following challenges during a QC:
Too Many Manual Tasks
With proper machine calibration, errors can be minimized in many automated processes. However, certain tasks still require manual labor.
To guarantee the quality, additional inspections and evaluations are necessary to verify the work performed and the completed product.
Shortcuts
Shortcuts may speed up the process, but it doesn't guarantee that every necessary step has been taken. Companies should prioritize product quality over producing a larger quantity by avoiding shortcuts.
High-quality QC procedures will detect instances where workers cut corners and affect product quality.
Avoiding Conflict
Making tough decisions is a part of doing business. It's important to choose the ethical option, even if it strains a relationship, as your reputation for integrity is key in your industry.
Prioritize keeping your promises to customers above all else.
Wrong Calibration
Improper calibration can result in poor product quality and harm to machinery.
If the data used to calibrate is incorrect or your team fails to follow standards, it can lead to extensive wear and tear on equipment, causing damage and interruptions in production.
Human Error
Worker fatigue and overwork can lead to an increased likelihood of mistakes in the workplace. Human error, in some cases, is inevitable.
Rushing
Unrealistic goals and tight deadlines can lead to production mistakes that compromise the quality of the product. Employers must set achievable expectations for their workers.
5. Conclusion
In conclusion, you need the best China Inspection Service practices to succeed as a company. The main importance of a Full Inspection is your customers' satisfaction.
You can confidently release your products to the market if you conform to customer specifications. That guarantees you a high supplier base and positive reviews. Both you and your customers enjoy the benefit of confidence in their goods.