How to Find the Right China Clothing Manufacturer
Today I'm going to show you how to find the right China Clothing manufacturers that get:
Types of China clothing
The solution to finding the right China clothing manufacturers
Factors to consider when choosing
Lots of more.
Let's dive right in.
Chapter 1: China Clothing Manufacturers' Basic
One of the biggest export products of China is clothing. For decades, buyers from different countries have looked for clothing factories in China. They have grown their business significantly from these clothing goods. You can buy shirts, trousers, denim jeans, jackets, coats, office clothing, and more!
China is known as a garment factory. They can mass-produce all types of clothing for a low price. Do you have a deadline? Ready-made clothing can be shipped even in large quantities.
This article will give you more information about the China garment factory. We have a list of China clothing manufacturers if you are looking for suppliers.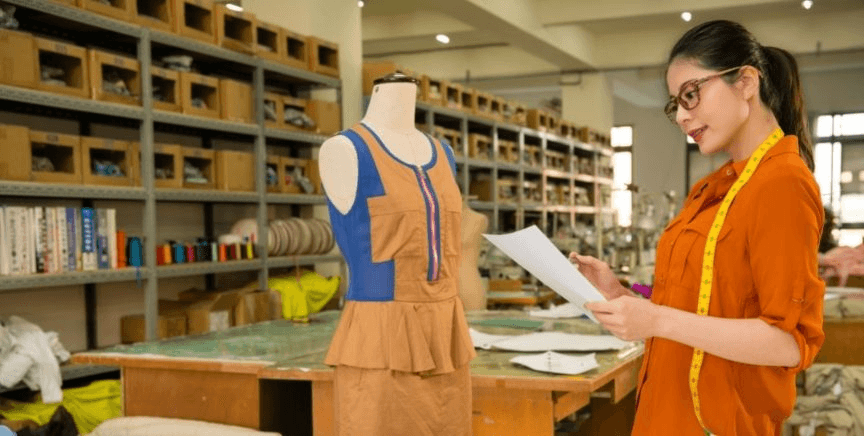 What are China Clothing Manufacturers?
The clothing manufacturers in China consist of small to large factories making different clothing types. They use various types of cloth material or fabric. They manufacture clothing products for all suppliers such as:
wholesalers
traders
retailers
clothing companies in and out of China
Even famous brands get their product from China clothing manufacturers. In effect, more and more companies choose to buy from a China clothing manufacturer. Instead of creating their product, they buy and import from China.
After the year 2000, China's apparel exports expanded. In 2018, the country produced more than half of the world's textiles and apparel. It also grew more than a third of global garment exports.
The local and foreign market has a high demand for fashion. Online shopping boosted China's clothes retailing sector. In 2019, online retail platforms like Alibaba created more than one-third of all garment sales in China.
Where is the textile industry in China? In Xiamen, Fujian Province, and Guangdong Province, China, Quanzhou City is home to many small and medium-sized clothing factories.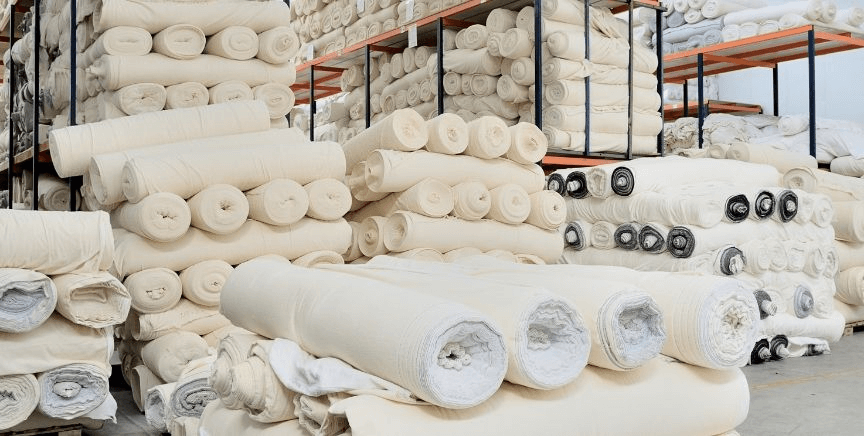 Why is China Clothing Manufacturers So Important?
If you consider buying clothing products from China, you have many advantages. You can put up a clothing business and succeed. You can choose from thousands of China clothing manufacturers.
How many are China clothing manufacturers? Overall, there are 44,000 manufacturing businesses in China- 21,000 in the textile sector and 15,000 in the clothing sector.
The China clothing suppliers are essential. Below are some of the reasons: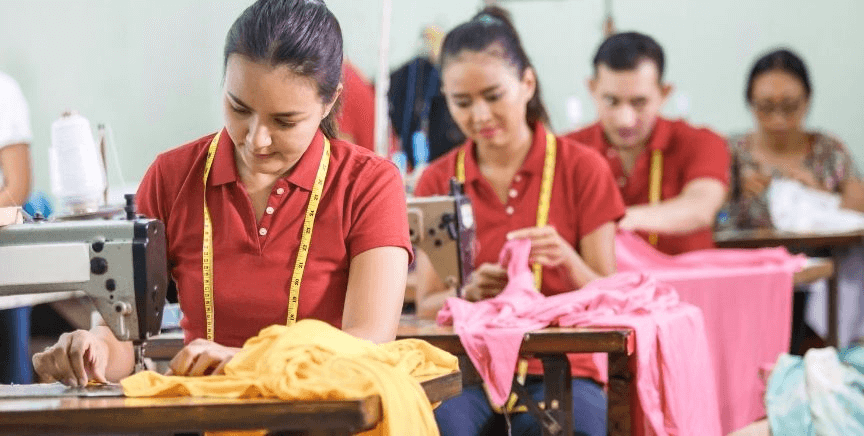 Cheap labor cost
It is known that China has a low labor cost and a high capacity for production. They have big production factories with advanced supply systems.
When you import from China, you can save on the operating cost of your business. It can turn into profit and more time for other things.
An abundant supply of fabric
If you are a fabric exporter, you will never run out of supplies from China manufacturing clothing and fabric companies. China clothing manufacturers have textile mills and machine equipment upgraded to the latest technology. You can buy all kinds of cloth and fabric here.
Good quality of products and other services
China's cloth industry is improving. In turn, you get good quality products. China clothing manufacturers have high-tech machinery and offer other services like product labels, customized, OEM, and ODM.  
Chapter 2:  Types of China Wholesale Clothing Suppliers
What kind of clothing do you want to import? From essential clothing to formal pieces, you can find them all here! You can buy thousands of Made in China clothing from China wholesale clothing suppliers.
Men's Clothing
You can buy all kinds of men's clothing like shirts, shorts, trousers, denim pants, jackets, blazers, etc. You can also find sports clothing, polos, coats, socks, office wear, and more from China fabric suppliers. If you are looking for a custom China clothing manufacturer, you can get a minimum order quantity for orders.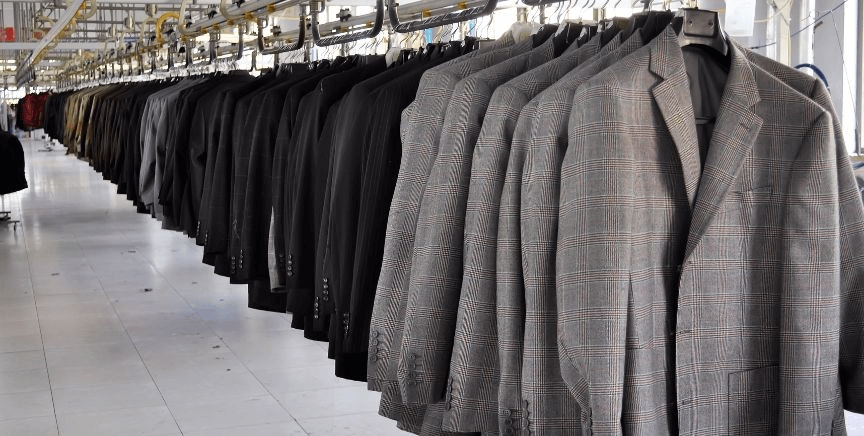 Women's Clothing
You can import women's clothing like casual, formal wear, business attire, lingerie, and sportswear. There are thousands of Made in China clothing suppliers where you can buy tops, pants, shirts, dresses, skirts, suits, coats, blazers, and more.
You can also purchase gowns and formal wear from China clothing manufacturers. Find fashion clothes sellers of all women clothes here.
Baby and Children's Clothing
Find newborn baby clothes like onesies, rompers, bodysuits, and daily dresses from Chinese clothing manufacturers. You can also import children's wear like t-shirts, trousers, skirts, shorts, denim, polos and jeans. You will find high-quality cotton clothes that are safe for babies and kids' skin.
The children's clothing manufacturers China offer hundreds of designs for every type of clothing. You will have a wide selection and enjoy huge discounts when buying bulk orders. Baby clothes manufacturers in China also offer custom and labeling services for OEM or ODM.
Casual and Formal Clothing
Daily casual wear like trousers and pants, polo shirts, and tops are available for all ages in different sizes and colors. You can also purchase formal clothes like nightgowns, prom dresses and suits, party gowns, wedding gowns, and other garments for formal occasions.
Made in China clothing can be customized based on clients' requests like sizing and colors. They have size charts available for Asian, EU, or US standards.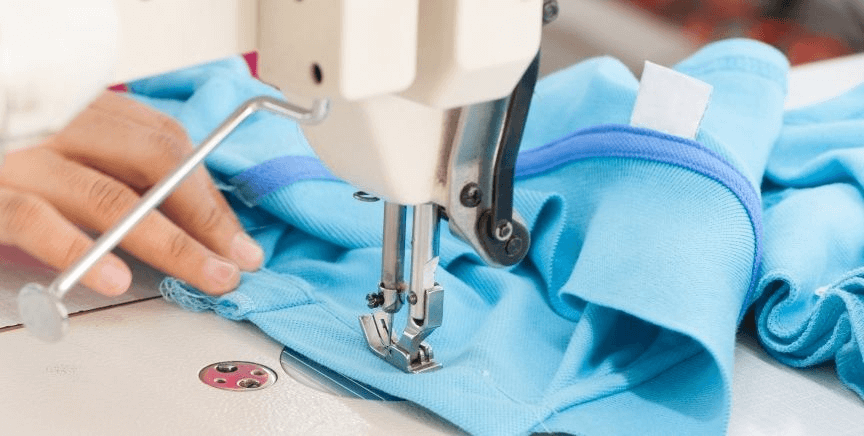 Work clothing or uniforms
When you want to have customized uniforms for your office or your business, you can look for custom clothing manufacturers in China. If you sell or make uniforms for other companies, you can import cloth or fabric. You can also order customized polo shirts with prints or embroidery.
You can buy wholesale clothes for the office, school, or work uniforms. There are ready-made suits like blazers and pants you can order for men or women. Cotton or wool fabrics for kids' uniforms are also easy to find.
Chapter 3: How Do You Find the Right China Clothing Manufacturers?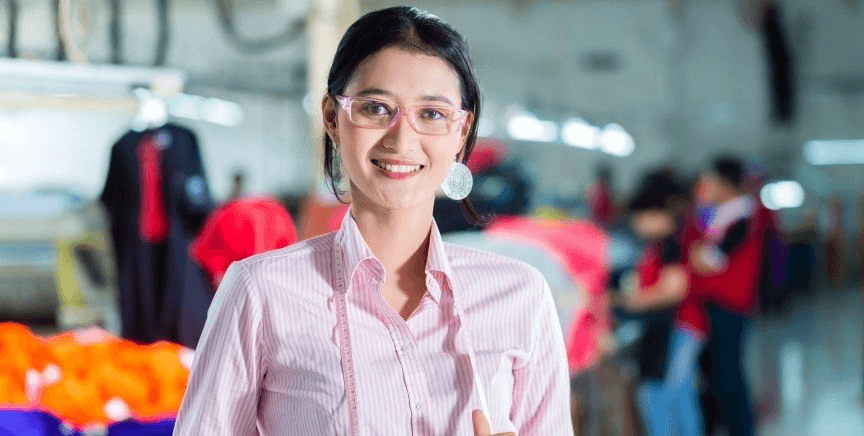 You may find a China garment factory from one of your Google searches. If you are familiar with Chinese B2B platforms, you can also find hundreds of China manufacturing clothing companies. But the question is, how do you find the right China clothing manufacturer?
1. Buy directly from the clothing manufacturers in China
Most of China clothing suppliers do not list their companies on B2B platforms. They have their own websites. Most of the time, buyers cannot converse with them due to communication barriers.
One of the best benefits of hiring a sourcing agent is that they can communicate in a foreign language, allowing you to interact effectively with them. Furthermore, once you've agreed on terms, they'll negotiate with suppliers and track the progress of your goods' manufacturing.
The best way to speak with them is through a sourcing agent. You can get a list of reliable top clothing manufacturers in China that meet your criteria when you hire a sourcing agency. They will be in charge of communicating and transacting on your behalf because they have a solid network connection.
Some China wholesale clothing suppliers are factories, and some are just resellers. They can be traders, exporters, or suppliers that also get their stocks from the factories. So you have to do thorough research and verify the supplier.
Are you looking for some direct suppliers that are well-known for their outstanding service? We have a list of high-quality clothing manufacturers China in the table below.
List
Company Name
Main Products
Description/Information
Location
1
Huaxiang Woolen
Knitwear, Wool
Works with international brands like Victoria's Secret,H&M, Coach, and Burberry.
Pudong, Shanghai
2
Shenzhen Doven Garments Co., Ltd
Functional clothing, Sportswear, Promotional clothes, Sweatshirts, Hoodies, T-shirt, Yoga wear, Jackets
Offers OEM and ODM, 4-year listed Gold supplier on Alibaba
Shenzhen, Guangdong
3
Shenzhen Global Weiye Clothing Co., Ltd
T-shirts, Polo shirts, Vest, Football wear, Hoodies, Sportswear, Babies' and Children's Garments
Makes OEM for big brands like Walmart, Gap, Nestle, Pepsi and Coke. One-stop process includes designing, weaving, dyeing, printing, sewing, packaging, and shipping
Shenzhen, Guangdong
4
H&Fourwing
Women's clothing like Dresses, Tops, Jumpsuits, Shorts, and
Blouses
They've been supplying mainstream high-end fashion labels. Customers can use their services for style research, design, fabric procurement, and the manufacturing process.
Ningbo, Zhejiang
5
Wuxi Kuanyang Textile Technology Co., Ltd
Softshell fabric, Towel fabric, Sport fabric, Swimwear fabric
Works with Wuxi Hongbao Special Dyeing and Printing Ink Co., Ltd., China's largest printing ink manufacturer. Works with famous brands like Coach, Adidas, Envy, Billabong.
Wuxi, Jiangsu
6
Hemp Fortex
Hemp, Organic Cotton, Organic recycled blend, Organic linen, Dresses
In their dyeing and finishing, they exclusively use EU-approved dyes and chemicals. For their goods, they have their own knitting and weaving facilities, as well as garment lines.
Qingdao, Shandong
7
Jinjiang Changda Garment
Casual wear, Sportswear, Children's wear, Sports Jacket, Hoodies, Running wear, Yoga wear
OEM/ODM supplier with small MOQ; mainly exports to US, Spain, Italy, France, Germany, and Australia.
Jinjiang, Fujian
8
Yotex Apparel
Women & men's clothing, baby clothing, workout clothing, and children's clothing manufacturers in China
Makes OEM and ODM Customized clothes, designer, supplier, Brand manufacturer, wholesaler, and importer of China manufacturing clothing
Shanghai, China
9
D&J Garment
Men & women's wear, babywear, workout and sportswear, kids' wear
Wholesaler, supplier, importer, and brand manufacturer of Made in China clothing
Guangzhou, China
10
Zhongshan ARLISMAN Garment Factory
Men and women's clothing, kids and baby clothing, workout clothing and sportswear
Offers OEM/ODM and design to clients. Makes knit sweaters, sweatshirts, T-shirts, polo, casual pants, and jeans for big brands like US POLO, H7M, Debenhams, BHS, GXG, and more.
Guangdong Province
11
Yoycol
Women, men and kids clothes like shirts, hoodies, sweatshirts, bodysuits, dresses, rompers, pants and more.
Printing and custom fashion clothing for men, women, and kids without MOQ and has quick processing. They offer blind dropshipping service, printing, packaging, and shipping.
https://www.yoycol.com/
12
Dear Lover
Men's and women's clothing like tops, dresses, bottoms, swimsuits, lingerie, jeans, sweaters, plus-size clothes, baby & kids' clothing
The company maintains a vast warehouse that can store 2.3 million pieces of apparel, ensuring that enough supply is available for over 9000 businesses at any given moment.
https://www.dear-lover.com/
2. Source from China clothing suppliers
Some high quality clothing manufacturers in China can be a wholesaler, retailers, distributors, or a trader. You can find them in the following:
Traders and resellers through B2B Platforms
Some startups and entrepreneurs discover clothing factories in China and credible suppliers on these B2B platforms. They check in Alibaba, Made In China, Global Sources, Taobao, 1688, China.cn, and more.
Though not all the best clothing manufacturers in China list their companies in these marketplaces, you can find a good match for your clothing supplier requirement here. To understand more about what they have to offer, simply verify, and read through their listing page.
Booth owners in marketplaces
Local wholesale booths are also in China's marketplaces. Because their rates are cheaper than those offered by traders and wholesalers, these booths offer competitive prices for their items.
In addition, China booths can be seen in wholesaler markets. When compared to the booths you see at local fairs, China wholesale clothing suppliers' booths are larger and offer a more focused product. For example, they can be China children's clothing manufacturers.
They are dependable market suppliers due to their product's high quality and low pricing. They sell to and connect with international traders as well.
Online trade shows
Due to the lockdowns brought about by the pandemic, importers cannot go to China to look for a China garment factory. But the good news is, that the clothing manufacturers in China are now hosting online trade shows.
The upcoming Canton Fair will happen from April 15-24. The attendees are buyers, wholesalers, manufacturers, dealers, and key decision-makers of some companies. This is in addition to the fashion fair happening in the Canton Fair Complex in China.
Fashion exhibits and fairs in China
Foreign buyers who can go to China attend trade shows and exhibits. Fashion and clothing trade exhibitions are held in China every year. China clothing manufacturers from many towns and provinces attend these fairs to display their clothing products.
If this is possible for you, visiting China during one of their regular apparel fairs can help you find China wholesale clothing suppliers. Some clothing factories in China participate in these fashion fairs to showcase their products and services.
Some events happening this year are:
Functional Textiles Shanghai on April 6-7
China International Fair on April 14-16
Intertextile Shanghai Apparel Fabrics on April 14-16
Chapter 4:  Factors to Consider when Choosing Wholesale Clothing Manufacturers in China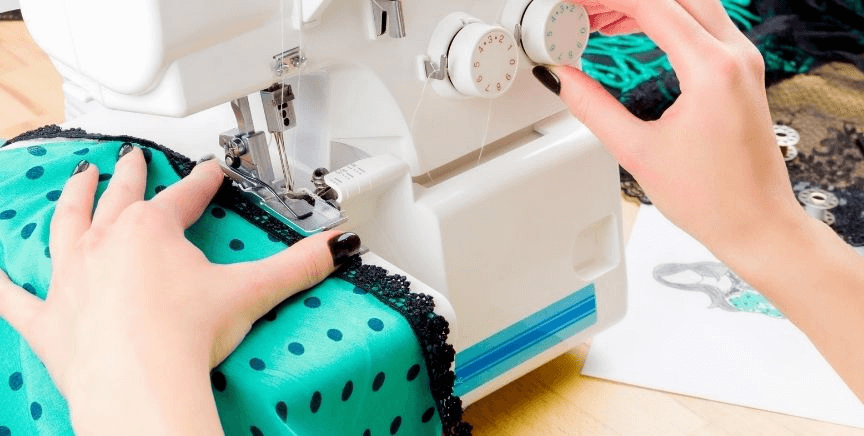 So you've learned the difference between a China clothing manufacturer and other types of suppliers in the previous chapter. We will now go to some factors when choosing a China clothing manufacturer.
You need to remember some things when you find clothing manufacturers in China, whatever your choice is. We will now go to some factors when choosing a supplier.
Minimum Order Quantity (MOQ)
An MOQ is the smallest number of items that must be purchased on every order. Chinese clothing manufacturers most commonly use it from any client. They can set MOQs for many sorts of orders. The MOQ determines the discount you can get from every order you make.
For example, if direct baby clothes manufacturers in China require 10,000 pieces of orders as their MOQ, you cannot lower the number of orders. But, you can buy from another China clothing manufacturer with a lower MOQ requirement. The only difference is the price. Direct supplier is always cheaper.
Sometimes, buying from B2B platforms will give you different pricing and MOQ. Let's compare Alibaba and AliExpress. This dress below is available on both platforms, but the MOQ and pricing are different.
Here's what it means: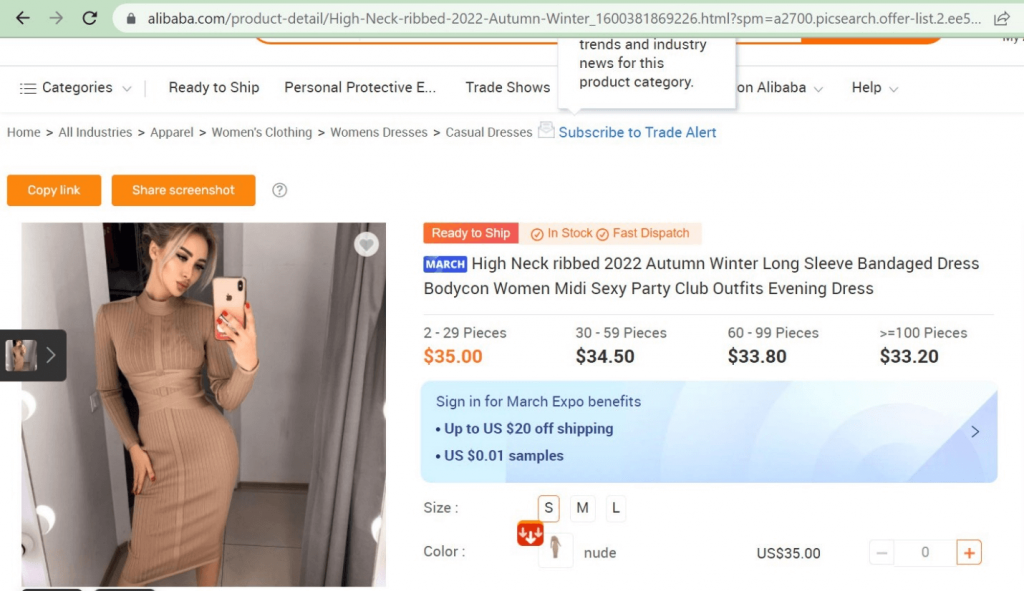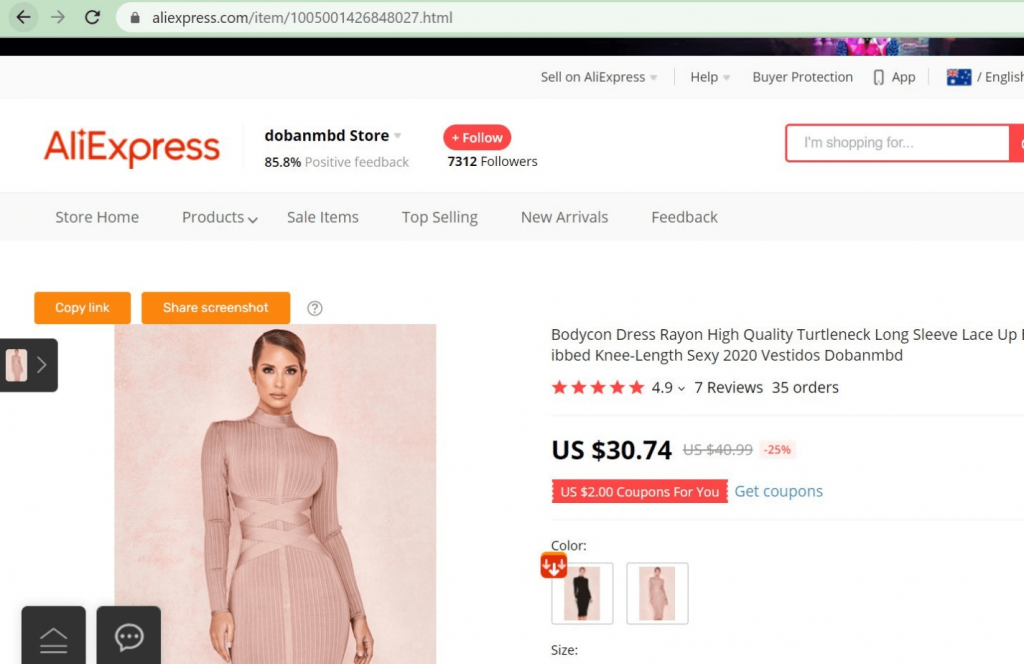 Dropshipping Options
Is your business focused on dropshipping? Some China clothing suppliers or clothing factories in China do not offer this option. For the biggest dropshipping suppliers, you can go to AliExpress because they provide VIP prices. VIP price is a price lower than the original product price.
Another site is Banggood. They have a dropshipping program and 24/7 customer support. You can also look at CJDropshipping because this is a platform with print-on-demand products, free USA warehouse inventory, and content you can use for marketing.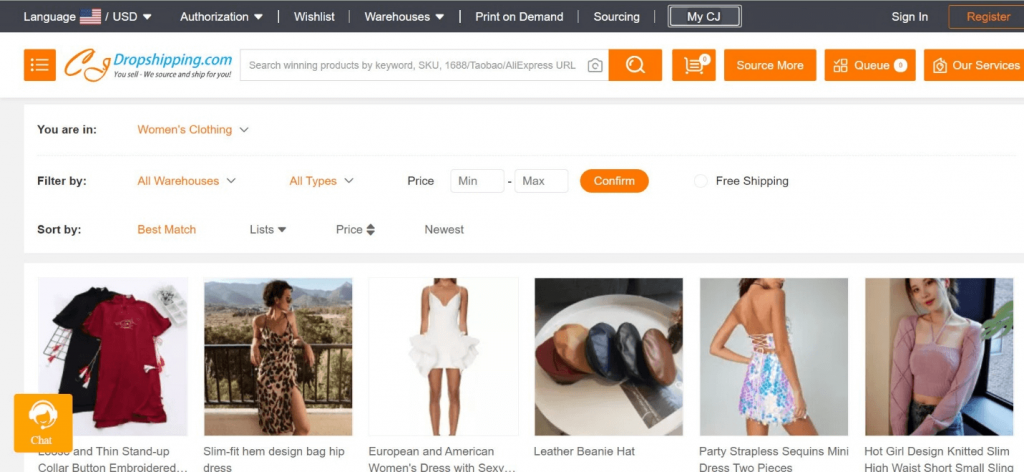 Last but not least is Chinabrands. This platform is built for dropshipping. Your products can be dispatched within 24 hours, and you can update your account to VIP for more discounts. You have to be knowledgeable about these platforms for a better buying experience.
Customization and Labelling
Not all China fabric suppliers have these services. Customization of a product refers to the ability of a manufacturer to offer several designs or details for a single product tailored to a buyer's request. It is most common in OEM or ODM services.
However, some direct suppliers only supply products or require a considerable MOQ to make it possible. It is not suitable for those small or starting up. On the other hand, some China clothing manufacturers like wholesalers or small-scale factories can customize and label your brand.
In addition, China clothing suppliers will add costs for labeling and packaging customization. You can customize the clothes by adding your company logo, changing the layout of the box, and making it look like your "own" brand.
If customizing and labeling is not an option from your China wholesale clothing suppliers, you can hire someone to do this for you. But you have to consider the time, price, and other factors when hiring a third-party service.
Shipping Terms and Conditions
When buying clothes from a China clothing manufacturer, you need to verify if the price includes shipping. Is the quoted price only the EXP? You need to understand the shipping terms the China manufacturing clothing company will give you.
There are custom taxes and duties that you have to pay. You have shipping options depending on the number of your orders. If it is a rush, an express air courier service is recommended, but the price can be high. If you will ship via sea freight, know the timing of the shipment and the delivery date.
Be mindful of your country's import laws so you will not be surprised by any added fees or taxes you have to pay. You have to coordinate with your China clothing manufacturer or, better if you get the services of a freight forwarder like JustChinaIt.
Quality and Inspection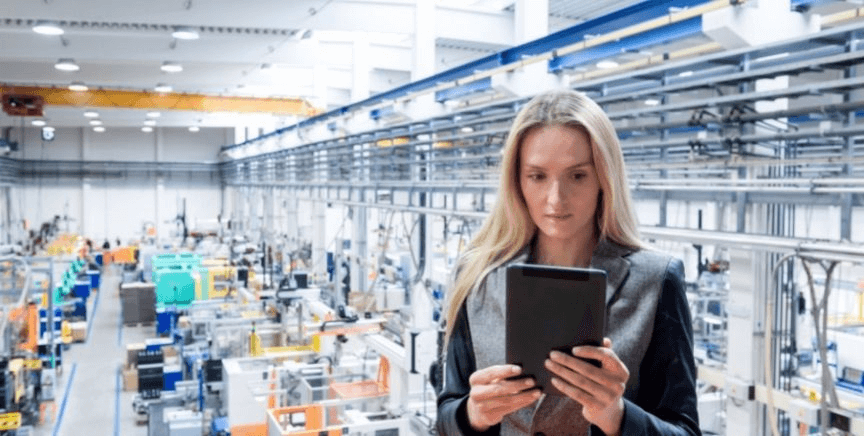 This is often a problem when you buy from traders. They do not personally inspect the product they ship to you. For peace of mind and when ordering in bulk, you can hire a sourcing agent to do the quality check and inspection of your product before shipping.
Made in China clothing direct suppliers or China clothing manufacturers can ensure good collaboration. When you have bulk orders, you can secure a contract.  If problems arise after receiving the products, they can replace them for you. But when you buy from B2B platforms, you will not immediately get a resolution, or it will take some time.
Since an importer cannot personally inspect and check the product, you should coordinate with someone who can do the checking for you when you are ordering in huge quantities. For small or medium-sized orders, make sure you are buying only from verified China clothing manufacturers, and you can request for warranty.
Chapter 5: How to Import Clothes from a Made in China Clothing Manufacturer?
Is importing clothes from a China clothing manufacturer easy? Well, you have to go through a step-by-step process. It also depends on the volume of your order. Below are what you need to know and do when importing from China wholesale clothing suppliers.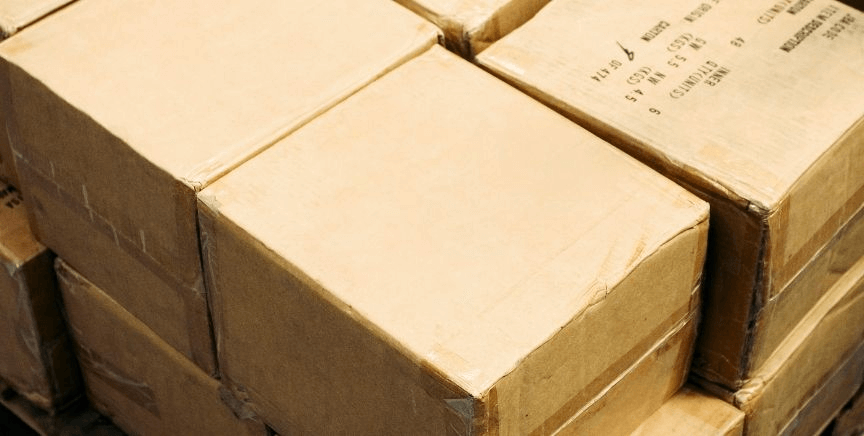 Check your country's import regulations.
There are import rules that apply to products brought in for business or resale. When you purchase clothes from China, you cannot declare them for personal use. Only the customs authority has the authority to decide what constitutes personal use.
This means identical clothes in bulk will have a hard time passing the credibility test if you declare it as personal use. Before importing into your country, you must first determine whether you have import rights. You have to check if you need to have an import License. Examples are:
United States– your Social Security Number (SSN) or your company's Internal Revenue Service Number (IRS EIN) will suffice.
Canada– you must first obtain a Business Number from the Canada Revenue Agency (CRA).
Europe– you must register as an economic operator (EORI number).
Japan– anyone intending to import goods must notify the Director-General of Customs and get an import authorization after the products have been thoroughly examined.
Choose the clothing line you want to purchase.
You will find a China garment factory that sells different clothing lines. The baby clothes manufacturers in China can also sell kids' clothing. Before you import, you have to determine what specific clothing line you'd like to purchase. There are different HS Codes for the type of garment or cloth you will import.
The HS Code is the standard used to classify the goods to know the custom tariffs. You can use this HS CODE tool to check what classification it belongs to.
Research the estimated cost of your goods and the landing cost.
This is the process where you can know the total estimated amount you'll pay for the clothes you will import. After using the HS tool above, you can get the 10-digit tariff classification number and the amount you will pay for the customs fee.
Then, you can compute the landing cost. The landing cost is the overall cost of a product from the seller's warehouse to the buyer's facility. You can choose what courier service you'd like to use. This is what it will look like:
Landed Cost = Product Price + Shipping Freight Fees + Customs Fees
Find your China fabric suppliers through your sourcing agent.
Are you interested in buying bulk clothing with the China fabric suppliers? If you want to connect directly through these sellers, you need to hire a sourcing agent like JustChinaIt. The sourcing agent can help to communicate, negotiate, arrange, inspect, ship, and process everything smoothly for you.
A sourcing agent or company is an expert in this field. Since not all China wholesale clothing suppliers can speak English, the sourcing agent can be your intermediary to close a deal and process transactions with ease.
You have to be aware of the scams and frauds when dealing with suppliers from the B2B platforms. If the supplier gives you a price that is too good to be true, think twice. Free shipping may only refer to the product price, but it may not include the customs fee.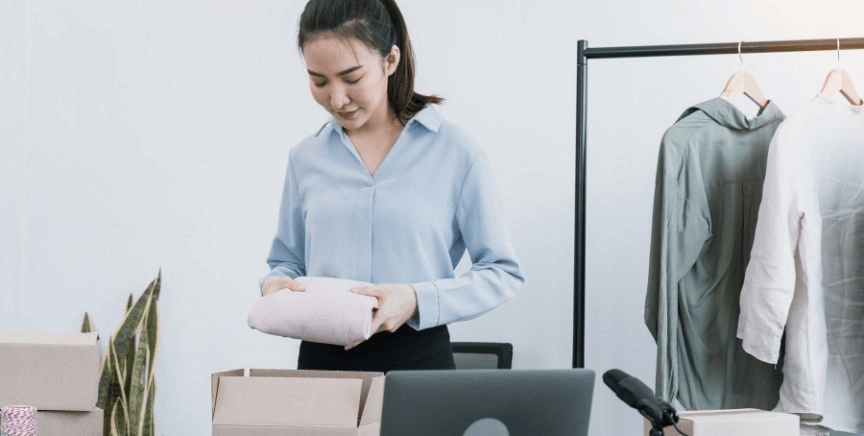 Arrange your cargo with a freight forwarder.
Some clothing manufacturers China have partnerships with freight forwarders when shipping goods to other countries. However, if your China clothing manufacturer cannot arrange the shipment for you, you need to choose and process the shipment. The easiest way is to get a shipping agent.
As mentioned, your sourcing company can also arrange your cargo's shipment. They can give you options so you can save money and time. After buying from clothing factories in China, your shipping agent will take care of the documents and other things needed to ship your package.
If you need a trusted shipping agent, JustChinaIt is the best company. We are here to provide all your shipping needs. All you need to do is wait for your package. Our systems are reliable and transparent. We provide you with timely updates and help you if any problem arises.
Chapter 6:  Tips When Selecting Your China Clothing Manufacturer
Your decision matters when choosing a China garment factory. It is because a China manufacturing clothing supplier can help you succeed in your business. You don't want to waste your capital and effort dealing with unreliable suppliers. Another important thing is the after-sales service.
We have some guidelines on how to select your China garment factory. These are proven tips for years and can help you get the best experience when importing clothes.
List down all your questions.
It is fine to ask many questions as this would also let the supplier know that you are knowledgeable about what you're doing. By asking questions, you can gauge how your chosen China clothing manufacturer can assist you in your upcoming transaction. Here are some vital questions you can ask:
What is the EXP per piece?
What is your MOQ, and can you lower it down to _____ pieces?
Do you offer door-to-door shipping to our warehouse?
Do you inspect the items before you ship?
Can you customize and label it?
Do you do OEM or ODM?
What are your best shipping options?
Do you have a partnership with a freight forwarder?
Can you provide after-sales support?
Do you offer product warranty and replacement?
What are your payment and shipping terms?
How many companies do you work for? Can you show some proof?
Can you handle an increase in demand within a specific time?
Do you have company certifications?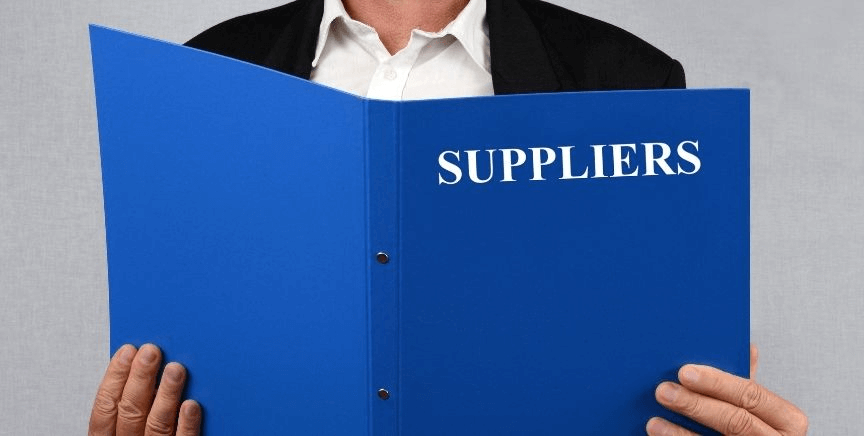 These are just important sample questions you can ask. When you set up a meeting or chat with custom clothing manufacturers China, check their profile on the website or B2B platform so you can verify some information.
If your country has strict import regulations, ask for documents and check with your customs bureau. Ask for a sample quote and compare it with other suppliers, then ask questions if you feel that something is off or missing.
Get help from a China sourcing agency.
Believe it or not, a sourcing agency is your reliable partner when outsourcing in China. They will not only provide China manufacturing clothing companies to you, but they can provide the right match for your company's needs.  They have a wide network connection to clothing manufacturers China.
When choosing your China sourcing agent, check the years of experience and their expertise in the field. Do not work with an independent agent unless he or she was referred by another China clothing manufacturer. This is because some sourcing agents are not transparent with their service and can add a markup on your purchase.
A sourcing agent will help you close a deal and with many other things such as negotiating, product sampling and testing, inspection while on production, and shipping. It may be an additional cost to your importing budget but there are many advantages you can have.
Test the product first by getting samples.
Some suppliers will give you a product sample; some may not. It is always a smart idea to check the product on actual and inspect it yourself. This way, you can see if the description written is correct and the quality is satisfying.
For China clothing manufacturers custom clothes, the size standard is very important. You must know what sizing chart they use when customizing clothes. The cloth is also vital. If you are selling clothes to cold or hot countries, make sure the fabric is suitable for the weather.
The quality of every piece of clothing you sell can make or break your business. Some people will not mind spending more as long as the product is good and can last a long time. Do not settle for cheap products, but they can only be good on the first use.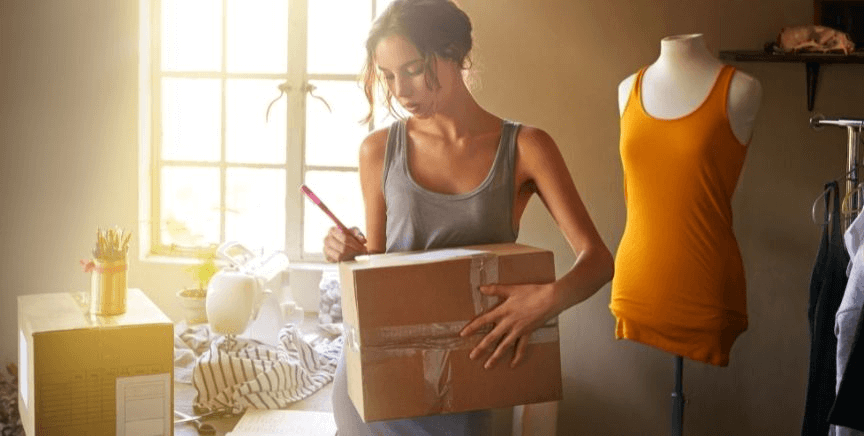 Check the stitches, cloth quality, seams, cuts, and threads. If the clothes are dyed, see if the color will fade after washing. Also, check if the cloth will shrink after you wash it. You can buy samples from different China clothing manufacturers and compare the quality. Pictures from their websites can sometimes be deceiving.
Ensure communication with your Chinese clothing manufacturers.
To have good communication with your custom wholesale clothing manufacturers China company, make sure they respond to your emails on time. They should give you a contact number or a sales representative that will handle your concerns.
You can install a Chinese app like QQ, WeChat, WhatsApp, or whatever is available for them to talk with you. China cannot open some platforms like Facebook or Instagram so it is better to use one where they can be easily reached.
If your questions get answered within 24 hours, then your supplier is reliable. If your inquiries do not get answered within a specified timeframe, you may need to look for a new one. But when you have a sourcing agent, he or she will communicate on your behalf and just report to you all your concerns.
Review supplier's profile when you buy on B2B platforms.
If you are sourcing your suppliers in Chinese marketplaces, check the company's profile. Are they a verified or Gold supplier? How many years are they on the platform? Do they get product reviews? How many items were sold per design?
For example, when you search clothing suppliers on Alibaba, use their "Search Image" function. It will list all suppliers who sell the same item. Check each profile and choose which China clothing manufacturer has the greatest number of sales, seller ratings, reviews, and even followers.
Chapter 7:  FAQs on How to Find the Right China Clothing Manufacturer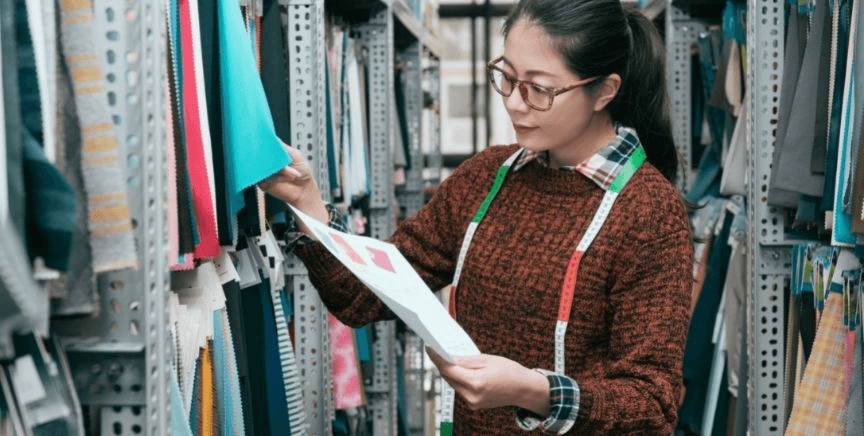 Made in China clothing is no doubt excellent and saleable. Selecting suitable China wholesale clothing suppliers can make your business prosper and expand in no time. As we close this chapter, we have a few more questions to answer about finding the proper China clothing manufacturer below:
1. How much does it cost to import clothes from China?
The cost will depend on the product classification plus the custom tariffs, and the shipping fee of your order. For example, when you import T-shirts from China to US, the duty rate is 16.5%. But, this will still include an additional 10% or 25% tariff depending on the product classification.
Before the pandemic, the shipping freight cost is practical but these days, the shipping fee is up to 5x more than the old price! If you want to know why the shipping fee has increased, you can read HERE. (please link the article Why China Shipping Costs..)
2. How can I buy direct from China factory?
Since you cannot find China factories just by researching online, you need to ask for assistance from a sourcing agent to help you find and approach the China clothing manufacturers. They can provide you with a list of small to big-scale factories that can specifically match your order and import needs.
There is a communication barrier between a foreign and a China factory owner in most cases. This is why you need someone to assist you to talk to them, negotiating, and arranging orders.  If you want to buy directly with confidence and without worry, hire a China sourcing agent like JustChinaIt.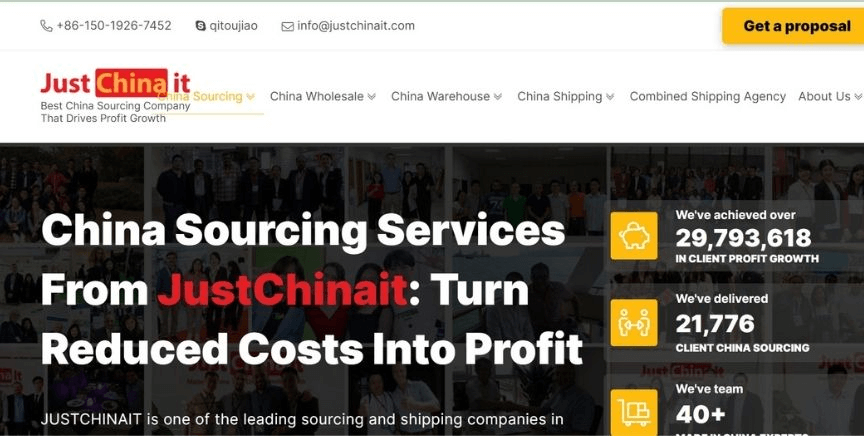 3. Do you have to pay customs when you buy from China fabric suppliers in Alibaba?
Unfortunately, duties and taxes are not avoidable for a specific amount of orders. But if you don't want to pay the customs duty when the shipment gets into your country, you have to do a DDP shipping.
In a Delivered Duty Paid (DDP) shipping arrangement, the seller delivers the items to the buyer's specified location in the buyer's nation, including inland transportation from the import point to the buyer's premises, with import duties paid.
That means the vendor has goods available in the country of import and pays all costs associated with delivery, including import tariffs, taxes, and other fees.
4. Can I buy directly from China clothing manufacturers?
If you like to buy directly from a China clothing manufacturer, you must understand that quantity matters a great deal. The supplier's quote will change if you order 100, 10000, or 100,000 pieces.
Your shipping fee and the shipment method will also change. While it is true that you can ship modest quantities of clothes by plane, this is not the case for larger quantities.
If you want to buy from factories, buying in bulk is the most cost-effective way to save money. Both manufacturers and suppliers must adhere to a minimum order quantity (MOQ) for the production of goods. If you cannot buy their MOQ, they may refuse to cater for your orders.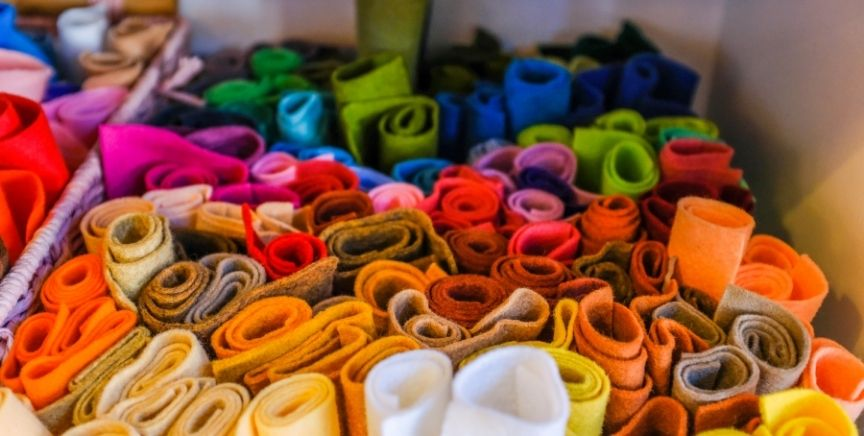 5. How has the rise in shipping costs affected clothing factories in China?
Because of the high and alarming rise in shipping costs, the clothing factories have had a decrease in their sales, especially during the last two years. For example, in 2019, you can ship $10000 worth of goods to the US for only $2000. But now, the shipping fee can go up to $10000!
Importers and buyers suffer from the spike in shipping costs, so they have to change their order terms and quantities to get their business going. The small factories and businesses are affected, and the only way to cope is to increase their product price or shipping fee to their customers.