What is the best China agent to buy in 1688?
WIf you're looking to buy products from China, then you'll need to find a good China agent.
But with so many options out there, how do you know which one is the best?
Well, fear not!
In this article, we'll tell you everything you need to know about finding the best China agent to buy from on 1688.
We'll cover what to look for in a good agent, and some of the best options out there.
1. 1688 buying agent Basic
1688.com is one of the best platforms for buyers seeking wholesale and bulk products. This website is legit, and the sellers are honest; these sellers are real and not scammers. You can also get the product at top quality.
So, how do you make the most of 1688.com while allowing your business to run at its best course? This article will help you! We guarantee that this will contain information on sourcing secrets and agents.
1) What is 1688.com?
1688.com is a B2B platform notable for being China's biggest wholesale and sourcing website. This platform is a subsidiary of Alibaba.com, which Jack Ma also founded. Both sites are legit and most loved by businesspeople worldwide.
1688.com is a platform focused mainly on domestic markets. However, their concept attracted a wide range of customers across countries. Their website became known for providing top-quality products at low prices.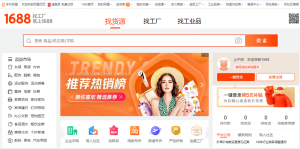 They also become notable for their customer satisfaction, top-notch performance, and on-time delivery. Different customers leave positive feedback on their experience with this platform. This platform is also beginner-friendly and easy to use.
2) Why is buying from a 1688 agent in China important?
Buying through a 1688 agent is the best option if you want less hassle on your part and to save money. These agents are professional, have a vast network, and offer fair rates. They will take over the complex processes in sourcing in the 1688 platform. They will be your one-stop solution, as they present you with an already laid out plan.
Business owners and entrepreneurs can get custom services online from any 1688 agent or shipping agent. They will be the ones to deal with buying products, combining multiple orders, and shipping. Their process will allow you to save nearly 70% on sourcing and shipping costs.
2. How To Buy From 1688
You can take various methods if you want to buy from the 1688 platform. This section entails two ways: purchasing yourself or using a 1688 purchasing agent. It's all up to you! However, we have compared and highlighted the four best options for you.
1) Through 1688 Buying Agents
If you're unfamiliar with the strategies when buying from China, it's best to ask for help. There are various 1688 com agents, from 1688 shipping agents to 1688 dropship agents to 1688 sourcing agents. You can hire this agent for 1688.com, depending on your needs.
You can place an order to your chosen 1688 Agent China; then, they will do the rest. They can buy, pay, negotiate, and even ship on your behalf based on your availed services. You must present the required details, such as the product name, link, picture, and so on.
They will then look for the manufacturer that can offer you the best deal. They will check product quality, negotiate, and get stocks to save you more time. If you need to partner with the best 1688 agent, we have a section you can browse. You can investigate them and hire that best fits your needs!
2) Buy Directly by Yourself
As foreign buyers, you have the option to buy from 1688.com yourself. To start, go to 1688.com and search for the product you want. You can already check out after or talk first with the seller. When you check out, you will provide shipping and payment details. You might also need to provide these details if you negotiate with the seller.
Also, after registering your account on 1688.com, you can log in to AliWangWang. You can also find the seller's contact number or WeChat Id; you can talk with them on WeChat. These two will be your best platform to communicate with your chosen supplier fast and efficiently. When you share info, it is a must that you translate your text from English to Chinese. Or only use basic English.
The process starts from here. Take note; it is like buying from Alibaba. You and the seller will discuss the product details, MOQ, samples, shipping, payments, etc. Since you are in direct contact with the sellers, there is no go-between man. You can even cut the lowest deal that would benefit your business. Buying from a supplier entails that you also need to pay them. This situation is best suited if you have dealt with the same supplier. Ensure that the supplier is super trustworthy to avoid scams.
The process may sound easy as it seems, but it's not. When you source yourself, you may run into payment and shipping issues. Paying these sellers means you need a Chinese bank account. The reason? They only accept payments in RMB or CNY. There is also a language barrier, wherein miscommunication can arise. So, be patient and use basic English.
3. Benefits of Working With 1688 Agents
Working with 1688 agents can give you many benefits regarding the products, expenses, and shipping. They have various services that can help you start and build your business. Now, let's look at the benefits we have listed for you.
1) Guaranteed Safe Sourcing
Most Chinese suppliers are open to working with overseas buyers. However, like in any other industry, you might also meet some bad ones. Honesty and safety are vital in business dealings. It is also most applicable when you partner with a supplier for the first time in different locations. Working with an experienced 1688 agent who has the means can prevent you from any risks.
Because you might face risks, the best way to prevent that is to hire a 1688 agent. This agent has the access and networks to source safely and securely. They understand the process, whether in sourcing, negotiating, or shipping. They also know how to prepare documents and even certificates needed.
2) Direct Sales from Manufacturers
Most agents work independently or have an agency they are part of. However, the good thing about working with an agent is there will be no extra cause as a middleman. They will be transparent with their prices, which will be at the most reasonable rates.
3) Best Deals
As a business or company, it is a fact that you will be looking for other means to buy high-quality products at a low price. You can already get a fair deal when you source from 1688. However, working with a 1688 agent partnered with various local factories, suppliers, and manufacturers can pitch you an even better deal.
The 1688 agents have also worked with various global companies, so they are familiar with the requirements. They understand the information needed to sign a contract that best suits your interest. With them, you will be satisfied with the deliverables on the prices.
4) Abundant Choices
1688.com already gives you abundant choices in terms of products and suppliers. Since this is the biggest platform worldwide, you are not limited to anything. However, if you don't know how to maximize these choices, you need someone who can. It is where a 1688 agent can help you!
A 1688 agent can list down and narrow down these choices for you. They know which products are of the highest quality and which supplier is the most reliable. You won't go through a trial and error since the agents already address the problem for you.
5) Convenient
Working with a 1688 China agent does not mean it's free. However, their fees are super beneficial—they avoid time-consuming and costly mistakes. They also have vast networks and resources that you can take advantage of. For these reasons, they can cater to your needs fast and efficiently. If you need to find unique products or have specific supplier requirements, they can provide them for you in no time!
4. List of the Best 1688 Agent to Partner With
As we have mentioned, if you want to source from 1688.com alone, there is a higher chance of risks and scams. To start, suppliers in 1688.com don't speak English. Also, all the payments must be only in RMB and CNY currency. They will accept no USD or other currency payments. It can be a lot of hassle on your part.
However, this will not happen when you work with a 1688 agent. A 1688 agent in China can help you buy from 1688. They serve as a link to connect you with the seller. At the same time, they will handle all the complex tasks. We'd like you to meet the top, trusted, and reliable 1688 com agents that can help you:
JustChinait is one of the best 1688 sourcing agents you can partner with when you buy from 1688. We have provided our services in this industry for over 12 years. What's more, we have worked with various suppliers, factories, and businesses you can take advantage of. We also have work and experts with different B2B platforms, including 1688.
Our agents know their actions will deliver growing benefits for our clients. Because we adhered to providing the best 1688 services, we have been named Shenzhen's Best China Sourcing Agent six times. No doubt that we can cater to your needs with sourcing, negotiating, packaging, shipping, etc.
JustChinait agents are also developing new solutions to make the process fast and efficient. Rest assured, you'll get money back guaranteed and high return profits. We can make your 1688 sourcing experience worth it and extend to working with more!
2) LeeLineSourcing
LeeLineSourcing is one of the agents in China that offered the best services in 1688. They now work in helping buyers, known importers, and small and medium-sized businesses. They ship to over 200 countries, so they can help arrange your shipment to deliver to your location fast.
What's more, they also provide various services, such as sourcing, shipping, quality inspection, etc. And, of course, they are notable for being one of the best 1688 shipping agents. They are quick and reliable, so all their 1688 shipping agents can assist you.
LeeLineSourcing can also make it happen if you prefer buying bulk on 1688. They can guarantee that you'll receive high-quality items for a lower price. You can also avail of their other services, such as negotiating, making payments, etc.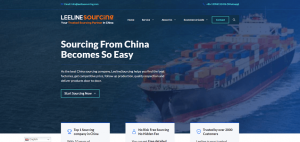 3) CneBuys
CneBuys has been a top agent for 1688. They can help you source samples, products, and prototypes. You can also let them handle all your other processes, such as bulk sourcing. They can even obtain products all at once and repack them to their China warehouse.
CneBuys is your partner if you're shipping high-volume cargo. They can arrange your shipping and get you the best deal. Thousands of clients have trusted their services and left positive feedback. You can also be one of the clients that can experience their incredible offers.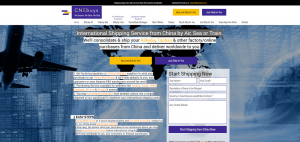 4) Supplyia
Supplyia is a trusted and reliable 1688 agent in China that will offer you the most unique and transparent services. You can select a suitable plan that will meet your sourcing needs best. These consultant plans have different ranges, from low to high pay rates and procedures. You can also select which agent you want, but they all charge $5 per hour for sourcing.
The first plan serves as free. The agents will offer free consultancy, checking and repackaging your ordered goods. The next is the basic plan which includes product shipping to your location. This plan also provides warehousing, but they will deduct it from your total costs. The final plan would be the pro plan. This plan offers better services, facilities, and sourcing services. You can also avail of added services, such as checking the product and factories.
5) Cnxtrans
A 1688 sourcing agent focusing on buying, shipping, and negotiating on the 1688 website is Cnxtrans. They are a professional in this field, so it is possible that buyers worldwide can source from China without any hassle. They also offer free services; you can take advantage of:
Product sample examination
Package labeling
Warehouse and storage services
Packaging services
Free package consolidation with product inspection
Because you can get almost everything in CneBuys, you can save money, time, and effort. They will help you with more of what you need, especially shipping. And they have a door-to-door delivery from China and then to your place. They will not charge you with too much process, but they can offer dependable and less expensive services.
6) China Purchasing Agent
China Purchasing Agent is one of the most reliable and trustworthy 1688 com agents. They have been in this industry for over ten years now. With their agency's experienced and skills, they can act as your agent and help you with your needs. Working with them can be a great help for you to save money and earn your profit. For this basis, they only charge a 3% service fee.
They will buy products from 1688.com in various kinds and grades. They accept payments in USD currency to convert to RMB or CNY to pay your seller. Lastly, they will prepare your order and ship them to your location. They will ensure that before shipping, everything is ready so that it will arrive safely.
7) com
One of the means for you to find the best 1688 agent is through the platform Yayaka.com. They are among the company with unique services, including being a 1688 agent and offering free services. They also have various offers on their website. If you are interested in how they can guide you, they mainly have two.
The first one is that after you buy products from 1688.com, you can avail of their free warehousing service. That means you can store your goods in their warehouse before shipping and for free. Also, if you cannot pay the seller in Chinese Yuan or RMB, they can do it on your behalf. You can send them the payments in USD currency, and they will be the ones to pay.
8) Taobaotrends
Founded in 2009, Taobaotrends has been offering its services for more than 12 years. They are notable for being a top agent for 1688 that is China-based. Through the years, they have constantly been improving to provide their customers with only the best. They also charge their 1688 sourcing only 6% in service fees and have lower exchange rates. That makes them gain high customer revenue.
Another notable factor is their low fees and exchange rates for quality assurance services. Their shipping services are top-notch, especially with taking care of your products and repackaging. Suppose you're looking for an agency that has no hidden fees. Taobaotrends is the one.
9) EZsourcify
EZsourcify is a top 1688 agent in China. They are notable for having a vast and diverse network, new tech, and market expertise. They also ensure excellent contact and on-time delivery to all of their clients. Their dedication to offering the best quality levels, safe delivery, and fair rates makes them the best.
They can also source various products from different sectors, such as:
Textile
Home Appliance
Home Accessory
Plastic Toy
Shoe
10) Superbuy
Superbuy, formerly known as Dotdotby, has been in this business for more than ten years since it started in 2012. They are the most well-known, successful, and trusted 1688 com agents. Clients all over the world seek their services, leaving them positive reviews.
In a short time, Superbuy becomes a popular name for being the best 1688 agent in the industry. They can buy various kinds of products. At the same time, they also offer exchange services exclusive to their clients as per their terms and conditions. Customers can also choose to return or exchange products.
5. Steps and Guide When Using 1688.com
There are different ways where you can use 1688.com, especially if you're a beginner. Some of these ways are the following.
1) How To Find Products
Finding products on 1688.com is easy and fast. You can do it through images or pictures, such as:
Camera Icon
When you open the 1688.com app or website, you will find a camera icon at the top of the page. This icon will be your first option in searching for your product. However, you don't need to change from English to Chinese, as what you will provide is only images.
For instance, the product you will be buying is a phone case. What you can do is search for the phone case design you want. Then save the image/s and upload these images through the camera button. You will see hundreds and thousands of search results for similar pictures you have uploaded.
This step is easy and fast. You will now compare the design, prices, and quality and start to test your product. Remember that it's best to talk with the supplier if you want in-depth information. The reason is that the prices and data displayed on 1688.com may not be that accurate.
Searching Product Name
Another easy way to locate your product is to search for it. There is a search bar at the top of the page where you can input the product name. A tip for you, try to translate the page language to English. In this way, the search result will be a little more accurate.
The only disadvantage of this step is that the product result may not be as many. For instance, in your search for a mickey mouse phone case, the result will show only 50 kinds of products in that design. Do you think that's a valid result? Certainly not!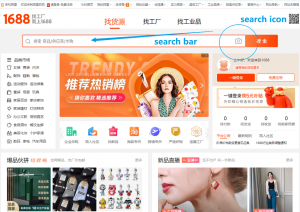 Product Name in Simplified Chinese
There is a limitation to the product result using the English name of the product, so we need to find a solution. What's the best option? It would be best to switch the language from English to simplified Chinese. Most manufacturers don't put the English name of the product.
Since 1688.com is for the domestic market, the main customers of these suppliers are Chinese. They don't need to translate anymore, as Chinese names are enough to understand their clients. As a foreign buyer, it is your turn to adjust and compromise.
2)How To Find the Best Supplier
Locating the best suppliers is also twice crucial as finding the right product. The real question is, how can you seek which ones are the "best"? There are five things you must keep in mind. These would help you partner with a reliable one and protect you from scams. See more to our guide below:
Has Complete Profile Details
The way suppliers present themselves is critical to note. As a foreign buyer, you will not meet this supplier firsthand. The only thing that you will rely on is the information they have provided on their page.
Total Number of Employees
After you arrive at the supplier's profile page, you should first spot the number of employees. The number of employees indicates what type of business they are currently labeled. For example, a small business has a range of 51-100 employees, a mature business has 101-500, and a wholesale business has 501-1000.
With this option, you can choose which suppliers fit your business best. You can compare them and narrow down your choices. You can also click the number of employees to give an overview of the company information.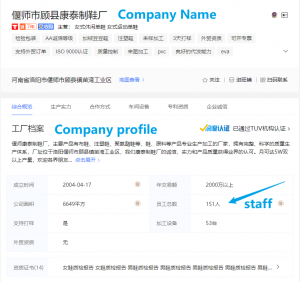 Agrees to 24 hours Shipping
It's best to find a supplier or company that agrees to ship your orders within 24 hours. Most of them already have the products in stock. What they will do is pack it and arrange to deliver it. That will be possible unless you avail of custom services.
Attains Badge and Symbols
You can see on the supplier's page their badge and symbols. This badge implies that they are legit, verified, and trustworthy. Some of the badges you need to spot are trust badge, delivery guarantee badge, etc.
Powerful in Business
It would be best if you chose a supplier with a powerful business. What does this powerful business imply? A business attains these three essential components: high-quality products, high sales, and timely delivery. When a supplier has these three, they are capable and company guaranteed. Again, if you click the powerful business, you can see more of the company's information.
3) How To Pay
There are different ways where you can pay your supplier. However, you have to note that 1688.com does not accept international payments or provide global shipping. That means payment will not be that simple. If you are a buyer or importer, you must build a connection with the seller to reduce fees and shipping. In this way, you have the option to make a direct payment.
Although such cases are possible, there are still other options out there that are much better. For example, paying through a 1688 shipping agent or 1688 China agent. Because paying through them only requires a credit card or PayPal. In contrast to paying directly, you need to have a Chinese bank account.
Alipay
One of the most convenient and trustworthy payment methods that you can use is Alipay. However, we have mentioned that if you want to pay directly, you must have a Chinese bank account. You also need this Chinese bank account when you register on Alipay. You must register and pay your supplier if you already have a Chinese bank account.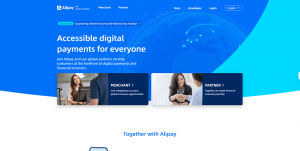 Online Transfer
If you want to pay the supplier, an online money transfer via bank deposits is an option. It is another efficient and convenient payment method in China. Once you have the lists of products and the total payments, you can make payments. It can be through a currency exchanger transfer, a USDT transfer, or a swift transfer.
Via 1688 Agent China
The best method out of all is paying through 1688 agent China. These agents can deliver the payments on your behalf. Contact them and pay them through USD or any currency in your country. Then, they will be the ones to convert to RMB or CNY and forward it to your supplier.
4)How To Contact Supplier
Reaching out to the supplier in 1688.com is like any B2B platform, such as Alibaba or Global Sources. But how what method can you use to contact them? We have listed some of the four most straightforward ways below:
Use AliWangWang
One of the most used communication apps by many suppliers, wholesalers, and manufacturers in China is AliWangWang. If you want to contact your chosen seller, installing this app is the best way. So download the app, register your account, and find your supplier's account. Remember, make a brief self-introduction in English and be direct to the point.
Check the Company's Website
Most sellers on 1688.com have their main website, wherein you can find ways to contact them. You can click the link they provide or search for the company's website on google. There are three scenarios you might face with. Depending on what you require, you can use any contact methods available.
The first one is a complete website where you can directly send your messages. Second, you can use their contact details via email, WeChat, or telephone. Lastly, some of these suppliers have an account on Alibaba. You can switch platforms for more easy access.
Use WeChat via the mobile number provided
WeChat is one of the most recommended apps we have for you. It is the most used app by any Chinese person. You can expect a reply if you send a message or inquiry to a supplier on this platform. Although there is a time difference, they may be able to respond to you quickly with WeChat.
So, what you can do is download the WeChat app and register your account using your phone number. Then, you can add the supplier's phone numbers and begin your negotiation!
Through a 1688 sourcing agent
If you don't like to go through the hassle of reaching the supplier or talking to them, this method is your option. The 1688 sourcing agents can also be your spokesperson. They will be the ones to reach out, chat, and negotiate on your behalf. You will be required to give these agents information; then, they will be the ones to relay.
6.FAQs with the best China agent to buy on 1688
1) What does 1688 mean?
1688 is pronounced as "1 yo, 6 liù, 8 b, 8 b". The founder gave this platform this name because it sounds like "Yao Liu Ba Ba" in Chinese, like Alibaba. Every number also means something: 1 means desire, 6 means successfully, 8 means getting rich.
2) Does 1688 have an app?
Yes, there is a 1688 app. You can download this app directly on your phone play store. Or you can go to 1688.com on your smartphone to find it. Scroll down to the bottom of the 1688 page. You will see the label "App," click and download it.
You can also go to 3g.1688.com, for which you need to scan the barcode with your smartphone to download the app. If you cannot download the app, you can visit m.1688.com using your smartphone's mobile browsing app.
3)Why do you need a sourcing agent?
Most suppliers in 1688.com don't speak English and lack export licenses. You should hire a professional 1688 agent like JustChinait to avoid any issues. Our agents are proficient in English and Chinese languages. They are also experts and trained in handling various processes in every B2B platform.
7. Conclusion
If you want to start a business or expand one, 1688.com is your best option. It is a subsidiary of Alibaba, which also offers a wide range of products at low prices. If you want to buy wholesale but don't like the hassle of dealing with the sourcing, payment, language, or negotiation, it's best to find a 1688 agent. If you need one, contact JustChinait, right away!