Mastering Shopify Order Fulfillment: A Complete Guide to Streamlining Your E-commerce Operations
Are you running an online store on Shopify and wondering how to efficiently process and fulfill your orders?
Look no further than this comprehensive guide to Shopify order fulfillment.
In this guide, you will learn about the different types of order fulfillment, the steps to process orders on Shopify, and the benefits of using Shopify order fulfillment.
You'll also find answers to frequently asked questions about Shopify order fulfillment, such as how to fulfill orders on Shopify drop shipping and whether Shopify automatically fulfills orders.
Whether you're new to Shopify or a seasoned pro, this guide will help you streamline your order fulfillment processes and provide your customers with an exceptional shopping experience.
Let's dive in!
 1.What is Shopify?
Shopify is a wide commerce platform that lets you start, grow, and manage your business. Their expertise and leadership in trade come from the experiences of many merchants on the platform.
With Shopify, you can create an online store and sell it in various places. Shopify is a subscription-based software-as-a-service (SaaS) sales platform that includes the web, phones, personal, and more.
Shopify organizes your product details, customers, and operational tasks in a single system seamlessly connected to all your sales channels.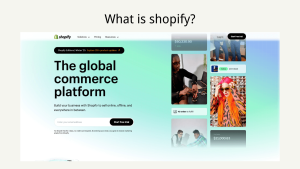 1) What is Shopify Order Fulfillment?
Shopify Order Fulfillment is a service you can use to store your products and fulfill orders. When you receive an order, Shopify gets and packs your orders and ships them to your customer. It helps you send your products to customers fast and with no delay.
There are some you will need to consider before using Shopify. It would be best if you ensure your products are suitable for the app. Also, set up your business correctly to fulfill your customer orders.
Some items need to be more suited for it. For example, before sending to Shopify Order Fulfillment, perfumes or scented products require prior approval. Other products, such as bullets or medication, are denied and can't be stored or fulfilled by it.
Let's say your store is in the United States or Canada, and you use Shopify to fulfill internationally. Your store needs to meet specific requirements to assess the correct import fees and taxes.
2) Different Types of How to Fulfill an Order on Shopify
In using Shopify, there are ways how you and your customers will be able to fulfill orders. Here are three ways how to fulfill an order on Shopify:
Self-Fulfillment of Orders
Shopify allows you to manage all your order fulfillment on your own. It is common to do order fulfillment because it is cheap, more controllable, and allows for easier storage monitoring. There are two ways to fulfill your orders: automatic and manual.
Automatic Fulfillment makes your life easier. It will allow you to skip some steps. With it, the charge is marked as fulfilled after it is paid. See? You will not need to add other details. It is easier and will allow you to check out some more.
You can use Automatic Fulfillment if you sell only digital downloads or gift cards. Customers who buy digital products are emailed automatically a download link, and the product is marked as fulfilled. Rest assured that your customers will have their orders.
If you have your orders set to fulfill manually, you must open them and fulfill the line items. You can manually fulfill a portion of an order by fulfilling some line items. You can fulfill many orders at the same time to speed up the manual fulfillment process.
Third-Party Order Fulfillment
Third-party order fulfillment service is a third-party storage that prepares and sends your orders. A fulfillment service is a wise option if you want to avoid dealing with shipping. You can leverage a third party to support and simplify your Shopify order fulfillment process.
It can cost more, but it allows business growth. You will not need to focus on packaging and shipping orders. Many store owners use it for rapid processing. You can use Shopify custom order fulfillment service flows based on what you want.
A third-party service shows the same risks as Shopify, but it removes control. It is impossible to check orders for fraud before they are shipped out.
Mixed or Partial Order Fulfillment
If you only have a few products in stock, partially fulfilling the order is ideal. If you have access to products before restocking storage held by your third-party supplier, manually completing order sections is far faster.
Select each item you will ship within the order fulfillment tab. Note: the order will mark complete once all items are delivered.
It will make your customers happy if they can have their orders. If you cannot provide their whole order, you can still offer it, even partially. It will give you time to meet the demands once your supplier is done with the others.
 2.How to Process Orders on Shopify
In this chapter, we will show you the steps on how you will be able to process your orders on Shopify. What you will see on the app itself will be included for you to follow the steps easily.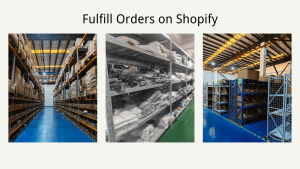 1) How To Fulfill Orders on Shopify Automatically
Go to the Adminsection of your store
Select Settings
Select the Checkout Settingstab
Go to the Order Processing Section
Select the After an Order Has Been Paidtitle card
Choose Automatically Fulfill All the Order's Line Items
Save your settings when completed.
2) How to Fulfill Orders on Shopify Manually
Go to the Adminsection of your store
Select Orders
View and sort your unfulfilled orders by selecting the Fulfill By 
Select the unfulfilled order and enter the Fulfillment Card.
Select your location in the Change Locations
Make your shipping label. Use the information listed on the fulfillment card to print a shipping label. If you use Shopify Shipping to create shipping labels for you, make sure you click the Create Shipping Label
Put your tracking numbers and shipping info. You will have to click the tab Mark as Fulfilledif you use a shipping service other than Shopify Shipping.
Checkmark the Send Shipment Details to Your Customer Nowtab if you want to notify your customer of the pending order fulfillment.
Click Fulfill Itemsto complete the order and leave the fulfillment tab. Complete your order by clicking the Buy Shipping Label button for owners who use Shopify shipping.
3) How To Fulfill Orders on Shopify with Legacy Order Fulfillment
Enter the Adminsection of your store
Click on Settings
Click on Shipping and Delivery
In the Custom Order FulfillmentShopify section, click Add Fulfillment Service.
In the new form, enter all the required details about your fulfillment and shipping service.
ClickSave to complete the setup
Once completed, return to your unfilled orders to request order fulfillment from your service.
Executing Third-Party Service Order Fulfillment Requests: 
Enter the Adminsection of your store
Click on Orders
View and sort your unfulfilled orders by toggling the Fulfill By data
Click on an unfulfilled order and enter the Fulfillment Card
Click Request Fulfillment
Send customer details. Click Notify Customer of Shipmentto alert your buyer of all order processing
Click Fulfill Items
4) How To Fulfill Orders on Shopify with Partial Order Fulfillment
Suppose a customer placed and paid for an order with multiple items, and some items are out of stock or a pre-order. In that case, you might want to fulfill part of the order to ship the items separately.
Go to Orders of your Shopify admin page.
Click the number of an unfulfilled order.
Select Create shipping label to buy a shipping label for your order.
From the Fulfillmentpage, change the number of products you want to fulfill for each item in the Items
Select the shipping method in the Shipping service
Select Send shipment details to your customer now if you want to send a notification email to the customer immediately. This option is available only if you have an email address for the customer on file.
Click Buy shipping label—the order screen updates to display the order's Fulfilledand Unfulfilled
5) How To Fulfill Orders on Shopify with New Order Fulfillment
Go to the fulfillment tab.
Request to cancel an order.
Leave notes to your third-party carrier.
Manage the order timeline.
Those were the vital steps in order fulfillment on Shopify. It can help your customers feel more at ease while shopping. This ensures that items sent to fulfillment complete their journey.
There may be "order fulfillment status: unfulfilled" and "Shopify cancel order" situations. To fulfill orders, you should stick to the fundamentals. It is simple to use. There would be no customer issues during the process.
 3.Benefits of Shopify Order Fulfillment
Shopify Order Fulfillment has many benefits, more than just not having to do more work. It would be best if you met your customer's needs and expectations. It will help you run your successful business. And it will give your company a good standing and name.
When it comes to ordering fulfillment, those expectations are high. Delayed, missing, or incorrect orders are ways to disappoint your customers or even lose them — which is why it is vital to get order fulfillment right. It is your main goal to make them happy.
To help you understand the advantages, here is a breakdown of the benefits of outsourcing order fulfillment.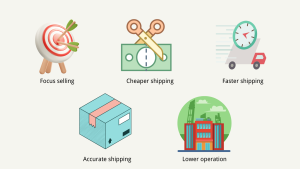 1) You can focus on selling (and more)
You will have less work to do. While order fulfillment is easier for smaller businesses, this job becomes particularly challenging and resource-intensive as your company grows.
You can rely on Shopify Order Fulfillment and spend more time on other works like design, marketing, and sales. It also means that you will have more time for yourself. You will have time to rest and relax.
2) Cheaper shipping costs
Many people will only outsource fulfillment if they see it as another expense. Third-party logistics companies can save you money in shipping.
Shopify has software that lets you look for shipping costs from other carriers. It helps you to select the most cost-effective rate for each order. It gives more chance for your company to earn more profits and save money.
3) Faster shipping time
Your shipping will be faster if you have many holds across the country. Shopify order fulfillment service allows you to provide speedier delivery by placing inventory closer to your buyers. Your customers will be able to have their orders quickly.
Shopify order fulfillment may be the only way for you to meet those high orders and compete with other chain retailers. It is a good advantage for your business. It will help your business give the best to your customers.
More customer means more profit for you. Isn't it good having your orders as soon as you make your purchase?
4) Accurate shipping information
Transparency and consistency in your company are so crucial for your customers. It encourages them to hit that buy button on the app if they know that you can be trusted.
The customer will receive the details of his order at checkout. It will include the product and when they may receive the order. It will help the customer to know when they can expect their purchase.
5) Reduce operating costs
When you fulfill orders internally, you must have the following expenses:
Cost of supplies
Insurance
Labor cost
Utility bill
Warehouse rent
In reality, the above list goes on. There are over a dozen expenses to consider. As the number of costs increases, it gets easier to manage. The more difficult its management, the more time you'll spend. When you work with Shopify, you pay only for what you use. Moreover, at the end of the month, you will get a receipt with which you know what you are paying.
6) Extend your reach
It can be hard to figure out shipping rates and predict shipping times on your own. International shipping rates are even more difficult due to the various rules, money, and best practices involved.
As a result, many retailers limit their shipping options to the local or regional level. But with Shopify, you can do what others cannot. You can still sell to customers in various places.
7) Easier To Scale
A sudden order surge is common in the e-commerce industry. As an entrepreneur, you should prepare your Shopify store for such spikes, especially during holidays and aggressive marketing drives. You cannot tell when something is going to go viral.
Your existing resources may require help with various scenarios. As a result, it is good to outsource fulfillment services. It is wise for you to sign up for it ahead of time to deliver orders on time.
A minor delay can result in a negative customer experience, which you are trying to stop. It would help if you always thought about what is best for your company.
8) Happier customers
It may seem obvious, in fact, but it needs repeating. Faster, cheaper shipping, more accurate delivery information, global reach, and more time spent on sales result in happier customers. Isn't it satisfying to give the best of your company?
It is the goal of your company, and order fulfillment can help you earn it greatly. Shopify order fulfillment will help your company grow and have a good name in the industry. More income will be for you, and more customers will like to order your products.
 4.When to Fulfill Shopify Order?
After your customer places an order, it is best for you to prepare and deliver the items. This process is called order fulfillment.
The fulfillment process usually includes picking and packaging products in an envelope or box. It is where you will store your product safely before it goes shipping.
Next is labeling the order for shipment. It is vital to let the couriers know to whom and where they will deliver the order. Lastly, shipping the package with a mail carrier.
 5.How to Finish Shopify Order Fulfillment Processes and Orders?
To finish the fulfillment process, stick to three basic methods: automatic, manual, and partial order fulfillment. Order fulfillment is simple once you understand the procedure. Just follow the steps as it is, and you will do it quickly.
You can be confident in your company once you understand what fulfill means. It also includes how to deal with Shopify pre-orders and the three types of Shopify order fulfillment processes. It doesn't matter if you fill orders automatically or manually.
You can use other tracking software apps to improve the client experience and give information about their delivery every step of the way. It will keep your customers at ease as they know where their order is.
Follow the basic steps on how to fulfill orders in Shopify and if you still have questions, come back to this article. We are more than happy to help you with your questions and other concerns.
You are not the first and will not be the last Shopify seller to deal with order fulfillment. Do not be afraid. Take a step. Learn how to fulfill orders on Shopify and find answers when you bump into a problem. It will be a great help to your company and have more customers.
 6.FAQs
1) How to fulfill orders on Shopify drop shipping?
Fulfilling drop shipping orders on Shopify is the same as normal orders. You choose one of the three methods, them being automatic, manual, or partial fulfillment. These are the technical details. You, of course, need to have your supply chain worked out before that.
2) What happens when you fulfill an order on Shopify?
When you fulfill an order on Shopify, you send the order on its way to the customer. The customer receives an email telling them their product has shipped, and the order's Fulfillment Status is displayed as Fulfilled on the Orders page. It will let the customer have full details of their orders.
3) What does it mean to fulfill an order on Shopify?
To fulfill Shopify orders is receiving, packing, and shipping orders. The process begins when a customer purchases a product and ends when the customer receives the order.
Order fulfillment is a nice word for how people get the products they paid for. It's one of the sales process's most vital and final stages. A poorly planned fulfillment strategy could cost you a customer and lose profits. So, it is better to have aids that would help your company grow.
4) How to fulfill order Shopify Oberlo?
As suppliers ship out the products, you can automatically confirm the shipping status by updating mark orders as fulfilled. The first step you will need to do is to Go to the Orders page.
On the Oberlo dashboard, online sellers can scroll down to the Orders page. Lastly, mark the fulfilled orders. Click to Get Tracking Code next to each order you want to fulfill.
5) Does Shopify automatically fulfill orders?
Yes! There is auto fulfill orders Shopify. Automatic fulfillment is the easiest way of fulfilling orders Shopify. Still, it is only fit for certain types of products.
You can use automatic payment with automated order fulfillment Shopify. When you don't have any goods open for pre-order, sell digital downloads, or use a fulfillment service.
Setting your orders to fulfill automatically does not apply to local pickup orders. This step is complete if you have already set up your order processing section.
 7.Conclusion
You can use Shopify Order Fulfillment service to keep your inventory and fulfill orders. The app will take care of and ship your products to your customer whenever you have an order.
You can manage your business data, including shipment tracking, customer data, and inventory levels, all in one place. It allows you to be more productive and do work efficiently.
Shopify will make shipping and fulfillment easier, where you only need to ship your goods to a single fulfillment center. It will spread your products across its other centers. It will make your products stored close to your customers.
You will have fast and cheap shipping. Shopify picks the best shipping option to give your products fast and at the best rates. Having it will be a great help for you and your company.