Mastering E-Commerce Fulfillment: A Comprehensive Guide to Get You Started
ndAre you running an e-commerce business and struggling with order fulfillment? It's a common challenge for many online businesses, but it doesn't have to be.
With the right knowledge and tools, you can streamline your fulfillment process and keep your customers happy.
In this blog, we'll take an in-depth look at e-commerce fulfillment services, including the different models, types of services, and steps involved.
We'll also explore how to choose the best model for your business and why outsourcing to a fulfillment company like JustChinait might be the right choice for you.
Whether you're a small business owner or a larger enterprise, this guide will provide you with the information you need to optimize your order fulfillment and take your e-commerce business to the next level.
1. Introduction
Business ties can be made or broken by how well e-commerce fulfillment services work, even if the product is good. It's OK with how much people want it. If the job doesn't get done on time well, it's a bust.
The e-commerce world has been taken over by drop shipping. In particular, over the past few years. Dropshipping has grown a lot in recent years. About three billion US dollars were made by the export business in 2021. A suitable fulfillment method is needed to run a company that makes so much money.
An online business can't grow without these two things: Keeping track of goods well.
Products delivered on time.
This blog not only goes into great depth about the e-commerce fulfillment process. It also knows the problems that online business owners face. It shows how essential 3PLs are for e-commerce companies.
When a customer orders something online, he expects to get several services. E-commerce fulfillment services are used to discuss all these kinds of services.
These things are:
Also, part of the fulfillment process is taking care of returns and swaps.
Filling out an online order is more complicated than it seems. It has many steps and processes, which will be talked about later.
Suppose you have started your e-commerce business. If so, you'll know that one of the hardest things to do is: Customers get their items on time.
You make a website and choose a way to accept payments and a shopping cart. You get customers and orders. Still, you must select the best way to get the goods to the customer.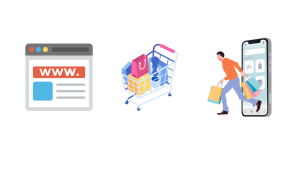 Many business owners find out at this point that the Internet is a channel. It is a place where work can be done. But delivery services are essential to how the company works.
It can cost a lot to get goods to customers. This cost is not in the form of money. It could cause you to lose customers.
Customers can shop elsewhere if they don't get their goods on time.
Because of this, many companies outsource their fulfillment processes. The reason is to make their business tools less busy.
Do you know what fulfillment services are mainly used for?
Fulfillment services are primarily about getting items to customers. Not only give but also keep processes consistent. They ensure everything stays the same and monitor the stock and shipping confirmations.
It lets people who run an e-commerce business focus on other parts of their business. These are things that the owners of e-commerce businesses already know a lot about. These things are: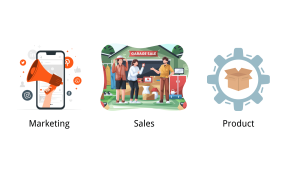 There are different fulfillment services, which will be talked about in more detail later. In this case, business owners need to determine which services are best for them. Ask yourself the following questions before deciding on a good fulfillment plan or service:
How quickly do you think your customers will get the goods?
How often do you use up your stock?
How much can you spend to get the tasks done?
3. Four models of e-commerce fulfillment
1) Fulfillment at the stock
Through in-house completion, an e-commerce business manages the whole fulfillment process. The online business deals with
Taking orders and packing them up and
The owners of an e-commerce business have total power over fulfilling orders. It's because the business owners and people there are involved. But, in-house Fulfillment does have some drawbacks.
One big problem with in-house Fulfillment is that it could take more time. Business owners will have to spend more time on the fulfillment process. They will, of course, have less time to work on other things.
The business is also limited in how much it can grow. DIY companies usually choose in-house Fulfillment because they can't store as much. Since there aren't that many sales, they can use in-house Fulfillment.
2) 3PL e-commerce fulfillment
3PL stands for "third-party order fulfillment," which is what it sounds like. 3PL e-commerce fulfillment companies offer different plans.
The choice of an exemplary method is based on two things:
How big the online business is
How much money the business has.
Customers today are impatient and want their items as quickly as possible. Every business wants shipping to be more accessible and to cost as little as possible. So it's hard to manage the fulfillment process.
So, working with an outside e-commerce fulfillment service provider is better. 3PLs have all the tools and know-how needed for a smooth fulfillment process.
They have stores all over the world so that they can ship faster. It's a handy tool for inventory management as well.
3PLs also take full blame for everything that isn't fulfilled.
Taking care of customers,
3) Multi-channel fulfillment
Multi-channel Fulfillment provides fulfillment services across variable sales platforms. You can use Amazon, your website, social media, or anywhere else.
Multi-channel Fulfillment is helpful because it adds more options to an e-commerce business. The fulfillment method is still easy to handle on different platforms.
Amazon offers a multi-channel fulfillment program. This program is for all the different ways an e-commerce business can sell things.
4) Fulfillment by amazon
Customers have high standards for shipping that is faster and more reliable. Fulfillment by Amazon can do both of these things. It's useful because it takes less time. It also makes the business easy to grow.
What is Amazon Fulfillment?
With Fulfillment by Amazon, online store owners can store their goods in Amazon centers. In exchange, they only have to pay a small fee.
Amazon fills each order when the business gets one. In this case, Amazon is in charge of the delivery.
FBA gives e-commerce business owners excellent customer service and a place to store their goods. Businesses like using Amazon's technology in return.
4. Types of fulfillment services
Even though fulfillment services might seem easy, they are more complicated than they look. There are different groups based on the services they offer. Let's look at each one in turn.
1) International Order Fulfillment:
International Fulfillment is when orders from customers in other countries are filled. For a global finish, you need to know how to ship internationally.
It's hard to do international Fulfillment because every country has different rules, fees, and taxes. It is better to work with a 3PL that knows the rules for shipping internationally. 3PLs should also know freight forwarding choices.
2) Fulfillment by Pick and Pack:
The 3PL e-commerce fulfillment center is like the Pick and Pack Fulfillment service. It is one of the most traditional types, with no complicated parts to it.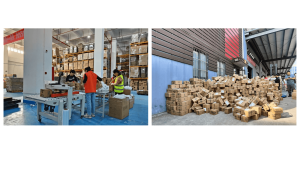 It means getting the things from the warehouse when an order arrives. After that, the goods reach the suitable packaging. At last, they are ready to be sent where they need to go.
Still, it could mean picking up and packing a lot of things.
3) Kitting and Putting Together
The word "kitting and assembly" is new but rare and often used. Kitting and assembly is the process of grouping, supplying, and packaging goods as a single unit.
It means putting all of a product or team's parts together. Then, it puts them together in a certain way. All of this is done before the items are sent to the customer.
Kitting and putting things together takes a lot of time and costs a lot of money.
4) E-commerce Fulfillment Center Logistics
The only thing that hasn't changed about the customer before or after the plague is that.
They want everything to happen right away.
Logistics at an e-commerce fulfillment center refers to
It begins when the product is sent out from the factory. In this case, "shipping" means getting the goods to the e-commerce market. How fast this process is done depends on how quickly the customer receives the order.
Whether it's keeping track of stock, picking and packing orders, or sending them out. All of these steps are a part of the process of running an e-commerce fulfillment center.
5) Inventory Was Spread Out
Distributed inventory comes from a stock kept in different places, as the word suggests. There are two main reasons why this method was chosen.
First, that the goods get to the right place. Second, it sells out quickly.
The fulfillment process goes faster when the material is spread out and works better. A delivery center is a place where the following things happen:
6) Subscription Fulfillment
Subscription fulfillment refers to the delivery of goods. This delivery comes from an online store to the customer on a set schedule. Usually, subscription fulfillment is done in-house.
It's hard to keep up with subscriptions of the same type. It includes the production of products in bulk. So, delivery on time is a significant need. So, it is better to use a single technique to assemble and make products. It helps keep things the same.
5. Steps in fulfillment services for e-commerce
1) Order Fulfillment Services
E-commerce fulfillment services and order fulfillment services are very similar. No one can ever say that order fulfillment services aren't crucial for an e-commerce business.
.When a customer orders in the store, the order fulfillment process starts. The storeroom then packs up the products. Also, it happens after the customer gets the thing.
2) Order Management Services
The idea of order control is more general. It means keeping an eye on how people place orders and buy things. And, it includes the steps below:
Orders are filled through different sales methods.
It is better to do everything related to order handling in one place. Doing this helps closely monitor all individual orders and their progress. It also helps analyze the buying habits and tastes of customers.
3) Taking care of stock
Managing your inventory is more than just tracking what you have in your building. It has to do with making choices. Choices are made about how much material is available. Also, how much do you need to meet future demands?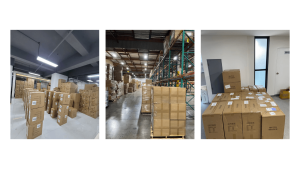 Managing inventory is a practical task. The actual management of inventory is made up of the following:
Sending out and moving goods
Keeping the company up-to-date on the number of items in stock.
It is essential to give correct information about stock availability. This knowledge is vital for a lot of decisions. Some of these things are getting more stock and taking more orders from customers.
4) Shipping for e-commerce
E-commerce shipping refers to the automated online shipping options offered to customers. Shipping in e-commerce is a way or process that ensures orders are delivered on time.
E-commerce shipping also includes several steps. In these steps, orders are received, processed, picked, and packed. As part of e-commerce shipping, you can print shipping levels and handle returns.
The e-commerce shipping capabilities of a business rely upon various factors. These include where the customer is, what goods they want, and how quickly they want them.
Several online shipping companies are offered. You can give them the whole job of sending with just one click.
5) Warehousing
A warehouse is where things are kept before being sent to customers. Warehouses are used for many different things. They keep the stock in order. And, they keep track of how long the store has been there. They also look to see where the product is.
If a business is small, it can do storage at home. Once the company starts to grow, it can buy a separate building. It can also hire a third party to do the storage work.
So many people can only use warehouse services at once. You can use the services only until you place a payment. When a customer makes an order, the product is immediately sent to the customer.
6) Managing Returns
Return handling is a crucial step in the fulfillment process. Several things could cause a fair number of orders to be sent back. Several things could cause a product to be turned down.
As an example:
The dangerous way the product looks
Shipment after the deadline
The product wasn't packed right.
The wrong address was given when the product was sent.
In these situations, it depends on how good the e-commerce fulfillment company is at what it does. How well it handles returns.
7) Software for Fulfillment
The heart of an e-commerce business is its fulfillment software. It lets e-commerce business owners keep an eye on everything from one place.
They get exact times for inventory, picking, packing, sending, and getting money back. The process of order handling gets easier. Business owners can use the program from anywhere. They can find out whenever they want how their business is doing.
6. Choosing the best model for your business's Fulfillment
You should look at your business before picking a fulfillment model. Before choosing a fulfillment plan, consider some essential business traits. A form of Fulfillment that works best for your business.
1) Business Size.
An e-commerce business needs to know how big it is. It's more critical when picking a fulfillment model or service provider. Fulfillment can be done on a human level for startups with fewer orders.
But as the business grows, you should consider a good fulfillment plan.
2) Products.
The features of a product are an essential factor. Especially when it comes to the help you expect from a fulfillment service. Do you sell heavy tools or things that don't weigh much?
Check out the fulfillment service you're thinking about. Make sure that it can help you get your goods to customers.
3) Sales Channels.
When you sell through many platforms, your sales go up. So, ensure that the company providing e-commerce fulfillment services can do it. It should be able to sell in a lot of different ways. Otherwise, there is no use in working with it.
You can work with as many e-commerce fulfillment companies as you want. But this will slow down the whole process. Whether you choose one or many service companies, you need to pay attention to two factors: • Keeping an eye on the stock • Keeping an eye on everything that has to do with customer service.
4) Do you sell in your own country or around the world?
It is essential to choose an e-commerce fulfillment business. Your chosen company should be able to do Fulfillment in the place you want to sell to. E-commerce is a business that takes place worldwide, so you can't just do it in one country. So, if you deal with orders from other countries, ensure that.
The company that does the shipping has stores in that country.
It knows what the rules and prices are there.
7. Why should you choose a company that will fill your order?
Do you want to start a business of your own that sells things online?
Do you already have an online business that you want to grow?
No matter at which stage you are.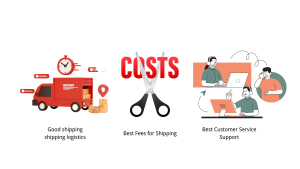 Working with an e-commerce fulfillment business is the best thing to do.
Let's look at the good reasons why we should do that.
1) Good shipping and shipping logistics.
It can be difficult to go through the fulfillment process. You must learn how to handle orders, especially if you get many. If you mess up, it could hurt your business. If you hire a delivery company, you can avoid this trouble.
Getting orders is excellent, but being unable to fill them on time is a pain. You can save time by outsourcing the delivery process to a third party.
The fulfillment service provider ensures reasonable procedures and that shipping is easy. Customers get their items on time, and you can work on your business more.
2) Best Fees for Shipping.
If you use a delivery service, you have to pay for each order you get. The shipping cost goes up a lot, making doing business more expensive.
You can talk about shipping rates when you work with a fulfillment business. You can get lower prices, which will help bring in more money and make more money.
3) Best Customer Service and Support.
Regarding returns and keeping track of goods, fulfillment companies can be a big help. What business wouldn't want to be open all the time? But you can only answer customer questions online for a certain amount of time.
That's why a company that helps with e-commerce fulfillment services can be helpful. They are responsible for looking after questions from customers. And, they answer questions about returns and swaps at any time of day or night. They also offer a tracking service so customers can track their orders.
8. Why is JustChinait the best company for your business to handle your online sales?
With more than 13 years of knowledge in the field of e-commerce. With the skills to serve more than 3,000 people around the world. JustChinait is the fulfillment partner that cares most about the customer.
Either you're a dropshipper looking for consolidated fulfillment options or a company that sells products directly to customers. Or you're looking for different ways to ship. Do you want to find a method to make the most money by selling goods made in China? The best choice for you is JustChinait.
JustChinait isn't a real business. It is your best fulfillment partner because it stays dedicated to helping you reach your business goals. Just like you, our goal is to help your business make money.
When you have a lot of knowledge, you know a lot. Because of this, the company has one of the best fulfillment service providers in the business.
The company is in charge of every single part of the fulfillment process. Among the customer-focused services it offers are:
1) Finding goods that are popular and reputable suppliers.
You can only make a profit with a successful outcome.
JustChinait gives you a lot of help with all of these steps. For example: • Buying the right thing • Getting it from reliable sources • Making sure the price is fair.
JustChinait helps you with all of these. It also makes sure that people who own businesses get the best goods. The company's other job is to find goods from reliable suppliers.
2) Having the best storage facilities.
JustChinait offers the best warehousing facilities to e-commerce businesses. Not only did it bring all the sales together. But it also has methods for managing inventory. It also chooses and packs the orders before sending them to the customers it wants to reach.
3) Shipping and Tracking.
Not just JustChinait has shipping services that go from door to door. It also lets customers keep track of their shopping. The company has shipping options for all types of transport as follows:
Customers can follow the progress of their orders until they arrive at their door. It gives customers peace of mind that their order is on its way.
So, if you want to start an e-commerce business and are looking for a partner to help you, You want to grow your business, but you're worried about how you'll handle all the new sales;
Then you have nothing to worry about.
Looking for a company that can handle everything for you? JustChinait is the BEST choice. JustChinait is a one-stop shop for all your fulfillment needs. You get high-quality goods from profits secured from reliable suppliers. This company has everything you need to start a selling business or grow one already up and running.
09. Conclusion
No matter how well you know Fulfillment's process, methods, and models. It's all for nothing if you need to know which plan fits the wants and products of your business. It is where you need the advice of an expert.
So, working with fulfillment service providers who aren't part of your company is always best. It lets companies use what they know. When you outsource e-commerce fulfillment services, you not only save time. But it also makes the business run better.