Dropshipping with Alibaba: Mistakes to Avoid When Getting Started
Do you think Dropshipping is a NO-SELL niche? You are 200% wrong. I can tell you why.
The dropshipping market size was 221 BILLION USD in 2022. It will reach 932 BILLION USD by 2030. (Vantage Market Research)
Such exponential growth, and still you are doubting this niche? B2B websites like ALIBABA have facilitated dropshipping.
How?
Let's explore how to dropship from Alibaba.
1. What do you need to know about Alibaba Dropshipping?
What is dropshipping?
More often, you listen to Dropshipping. You might have wondered what exactly it is.
Is that so? Let me explain what dropshipping is.
"Dropshipping is the process in which a store owner only sells products, not stores in the warehouses. A dropshipping supplier ships and fulfills the order."
It is the simplest definition I have ever understood.
Let's know does Alibaba dropship?
How does Alibaba dropshipping work?
Alibaba is one of the most popular eCommerce marketplaces for B2B trade. But the great thing is the ALIBABA DROPSHIPPING.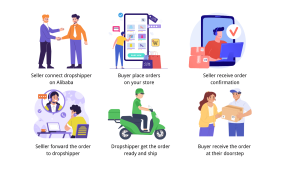 You can fulfill orders without physically storing the products. How?
Find the drop-shipping supplier on Alibaba.
Import products to your store on Shopify or any other sales channel.
Sell products and fulfill orders directly by asking your ALIBABA supplier to do that.
Does it even involve ROCKET SCIENCE? Dropshipping from Alibaba has evolved, reaching millions of product sales.
Let's know more about dropshipping with Alibaba.
Why is Alibaba dropshipping a good option for businesses?
I often ask myself, why is ALIBABA dropship great? The reasons are simple.
● Exposure to an expansive inventory
If I want to buy apparel, the Chinese are very creative. They have tons of designs. It makes the customers get attracted. And more often, sales occur due to a wide variety of products.
Moreover, from apparel to shoes, from beauty products to home appliances, everything is on Alibaba.
● Lower costs and higher profits
Alibaba suppliers sell products at lower prices. For example, I researched sneakers yesterday. Aliexpress suppliers had a cost of $20 for the sneaker.
Do you know the price on Alibaba? It was 200% down. $5-7 per pair of shoes lets you generate up to 200% profit in retail sales.
● Dropshipping is super easy.
Alibaba dropshipping center is going to handle A to Z trades. You find dropshipping suppliers—import products. And sell.
That is super cool and easy. Alibaba dropshipping agent further suffices your requirements.
2. Benefits of Alibaba dropshipping
You might wonder why I am talking so much about Alibaba. Is it even beneficial to go for dropshipping with Alibaba?
No problem. I have listed many reasons to choose it.
● No need to carry inventory
When you start dropshipping from Alibaba, leave everything to suppliers. Manufacturers have a more extensive manufacturing setup. They handle all your products in their adjacent warehouses. And ship only when you receive an order.
You don't have to leave your chair even for a single second.
● Low startup costs
Starting dropshipping with Alibaba does not need the fortune of Elon Musk or Warren Buffet.
You can start from $10 to $10K. Whatever budget you have, dropshipping does ask you to require a higher price. Moreover, wholesale prices on Alibaba further reduce your concerns about money.
You make sales. Earn more. And invest more.
● Global reach
Alibaba has access to 220+ countries. Excellent, right?
Such a global reach lets you sell products from the USA to Europe while sleeping in bed. You'll get various customers and a better opportunity to deal with high-profile customers.
● Access to a wide range of products
Alibaba is not a niche-specific site. You get all types of products. You can even see the products you never thought of in your life.
A wide range of products increases access to creativity. You impress your customers with the new and best designs of the products. Sales get to the NEXT LEVEL.
● Easy to set up and manage
Alibaba dropship is incredible. For example, you open a buyer account. Explore all the products. And import them into your Shopify store.
The next step?
Make sales. On each deal, ask the supplier to fulfill your orders at the given address. You sit and watch.
3. Drawbacks of Alibaba dropshipping
Don't just rely on the pros of Alibaba drop shipping. Maybe you change the decision due to negative points.
Here are the negative points about the ALIBABA.
● Long shipping times
Dropshipping on any platform is successful when customers are happy. And customers always look at the shipping times because they want the products to receive faster.
Compared to it, Alibaba suppliers are B2B and have a longer shipping time. Moreover, shipping from China to the US takes 5-10 days. Customers can not wait that long.
● Language barriers
If you are a US seller, do you know the REAL DEAL?
It is the language. You might not understand Chinese. Google Translate is not that efficient in giving accurate translations.
Therefore, you might get stuck at this point and lose the trades with the scammers.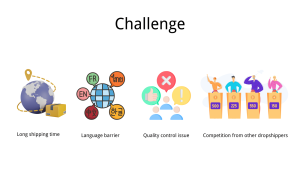 ● Quality control issues
If 95% of China suppliers offer quality, there will be 5% others. Those are scammers and cause fear in the market.
Since you are shipping directly from supplier to customer, there are more chances of low-quality products. It can be impulsive for customers to leave a bad review on your profile. And the result you already know…. The customer will never make a purchase again.
● Competition from other dropshippers
Nowadays, 5 out of 10 sellers are dropshippers.
It has directly impacted the number of sales and competition among the dropshippers. Nowadays, you have to be ranked higher in search engines to make more sales.
Ferocious competition depresses sales and impacts the business.
4. How to find a reliable Dropshipping supplier on Alibaba?
Don't choose random suppliers. Keep it in mind always. 99% of the scams occur due to the drop shipper's negligence. You don't pay heed. And then later complain.
So how to be safe, then?
Here are some tips on finding a reliable supplier.
● Search the dropshipping supplier on the Alibaba app or website.
Always use the Alibaba app or site. Alibaba has an Android or iOS app to facilitate buyers. You can try it.
For desktop users, Alibaba has a website. You can browse the products and suppliers.
● Apply filters to get a more suitable Choice.
What is your goal? Do you want a clutch-facing manufacturer?
Let me guide you with an example.
Open the Alibaba website or app.
You'll get tons of products. But Alibaba has filters.
In the above corner, filter out suppliers based on features, trade assurance, verified status, and positive reviews.
Alibaba has over 20 filters to narrow down your research. After trying this method, you'll get the best supplier based on your requirements.
● Check supplier profile.
Don't land mindlessly. Walk before you get out of your car. Maybe there is mud. And I am sure you won't like to step on mud.
The same case is here. See before you work with a supplier. Alibaba shows the company profile. Check their:
Customer rating. (For example, 5/5)
See the status whether GOLD SUPPLIER, verified supplier, or both.
Check how much the supplier has earned till now.
You can take a look at all the previous records. All these factors will get you a TOP SUPPLIER to start dropshipping Alibaba business.
● Read customer reviews.
Customer reviews show:
Supplier customer support.
Whether the supplier is genuine or not.
Above all, customer satisfaction.
Reading customer reviews is REAL TALENT. You'd better filter out a scammer from the top supplier. Your deals will be safer.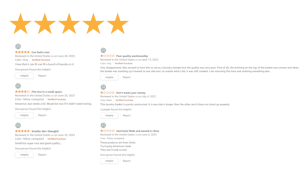 It is better to check:
Read all one-star reviews and five-star reviews.
Assess the fundamental problem with the company. For example, negative reviews are about late shipping.
Define whether the supplier is good for you or not.
If the supplier ships in 10 days while your customers want products in 3 days, leave that supplier. Move on to the next one. Therefore, defining your requirements can bring you the best supplier.
● Verify the business location for the supplier
Some suppliers are using VPNs to scam. They claim to be in China while they are in the US. They don't have a factory. And just let you know the address.
When you visit their factory, there is NO FACTORY in real-time.
So what?
Verify the supplier. Either hire the sourcing companies or work with Chinese residents to know whether the factory exists.
One crucial point here.
Alibaba Verified suppliers and gold suppliers get tested by the Alibaba team. That means they have manufacturing setups in real-time. So, you can choose such suppliers for your deal also.
5. How to negotiate with suppliers
It is usual for the buyers to fail at this point. The reason is 100% obvious. Some buyers are reluctant to talk. In contrast, others can't even deal with and set priorities.
But negotiation can win you the right deal. Here are some tips to know when negotiating.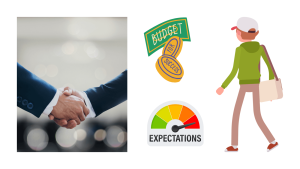 ● Set a budget for each product you want to sell.
Haste makes waste.
Have you heard this quote? It fits here perfectly when you hurry to finalize the deal.
Before you buy, sit. Know the budget for each item.
For instance, you expect a $10-$20 price for the sneakers. Instead of jumping on $10 or $20 sneakers, you better check the quality. Consider everything earlier to sell better later.
● Be clear about your expectations regarding quality, shipping time, and pricing.
A stitch in time saves nine.
This quote is trendy in English. That means the right step can win you what you need.
In negotiation, you should set:
Define quality control. Assess Pre-production, during-production, and after-production quality control. Set an AQL to minimize minor and major defects in products.
Discuss the shipping times. Be clear to ask whether the supplier offers tracking ID or not.
Negotiate to decrease the price. For example, you can buy $10 sneakers at $7 or $8 in bulk.
● Be prepared to walk away from a deal if you're not happy with the terms.
Not settling on the terms? Don't be too fussy.
Just refuse to deal. Be on your way. And find a new and better supplier. You'll get better deals with the new suppliers.
6. Payment methods available on Alibaba
Alibaba has several payment methods. You can deal with suppliers and pay in the following ways:
● T/T transfer
Have you heard of Telegraphic transfer? It is the wire transfer method. You can send payments from your bank to the supplier's account.
Benefits include:
Lower transaction fees up to 40 USD.
Cons include:
It takes 3-7 business days to reach the account.
● Letter of Credit
In a letter of credit, you create a payment line. The financial institution does not release the payment to the supplier until you receive the products.
Benefits include:
Very secure payment option.
You confirm it before the payment reaches the supplier account.
Cons include:
Costly method for transaction fees
● PayPal
PayPal is one of the EASIEST methods for payment. You add the account and pay your supplier. No complex process. No extra tension.
Benefits include:
Quick refunds in case of any scam
Cons include:
You might face currency exchange problems when dealing in the USD.
● Western Union
Western Union is also a popular method. Most Alibaba trade assurance suppliers use this method. You can send funds globally.
Benefits include:
Included in Alibaba Trade Assurance.
Cons include:
● Escrow
The escrow payment system allows the buyer and seller to have a third party. The buyer can release the payment only if the buyer has received the items. Dispute opening is more effortless if you still haven't sent your prices.
Benefits include:
100% secure payment option.
Cons include:
The Refund process is complex once you release the payment.
7. How to set up your dropshipping store.
Shopify or eBay have more considerable demands. Moreover, Amazon is not lagging in this niche—thousands of sellers dropship products on Amazon.
Before you sell on Amazon or Shopify, you must have a store. A store is like an ONLINE SHOP where you are going to sell.
And how to do that?
Here is a step-by-step guide to launch your first item.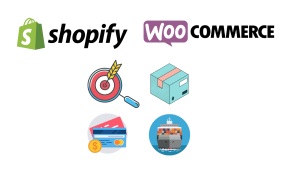 ● Choose a dropshipping platform such as Shopify or WooCommerce.
Woocommerce or Shopify? What do you choose?
Woocommerce is the website builder. You can buy a domain name. Purchase the hosting plan from any renowned provider like Bluehost, SiteGround, or Hostgator. Choose your hosting plan.
And then use WordPress with WooCommerce to build your site. The advantage of this is the unique branded website where you do not have to pay any single cent to the marketplace like Shopify.
Shopify is a platform like Amazon. But here, you can access the different subscription plans for using Shopify to build your store. The basic program starts at $25 per month.
You can subscribe and start scratching a store. Hiring professional web developers is a good idea. They'll help you make a more professional website with all the features.
● Create a product catalog.
What will you sell in your store? The products, right?
Why wait, then? Create your product listings. If you use Alibaba dropship Shopify, embellish your store. Upload the products. Add description. Use SEO techniques to rank better in search engines.
● Set up your shipping and payment methods
If you have done everything till now, it is better to set up your shipping options.
How will you ship the products? How do you want to get paid? At this step, you can determine every single detail.
Regarding Shipping, I have a key concern. Since you are not a fulfillment provider, you should ask your supplier what shipment services they will provide. For example, if the supplier offers UPS standard shipping, update it on your product page.
You can add the estimated time and cost for the shipping as given by the supplier. At this point, you have to be very careful.
You should offer the shipping options as your supplier does.
For payments, you can add whatever method is suitable for you—no need to take much tension about the payment option by the dropshipping supplier.
● Promote your store
When dropshipping on Alibaba.com, don't you want higher sales?
I have got tips to do it.
Use social media. FACEBOOK and INSTAGRAM are excellent sites with billions of users. You can promote your products for free. Sometimes, influencer marketing, though paid, can give you a HIGHER CONVERSION RATE.
Try Digital Marketing. Digital marketing can improve your sales. You can hire digital marketers and let them know your goals. They will try different paid and free methods to get you more organic traffic.
Utilize PPC ads. PPC ads only cost you the price when products get CLICKED. For example, you set a $1 per click price. After a buyer clicks your ad, you'll be charged $1. It doesn't matter whether you make a sale or not. These have better results for the promotion of the store.
Turn to SEO. SEO is the best thing. It is 100% FREE. You have to do research. Use multiple tools to extract the top-selling keywords. And then rank your store in the search engine. You'll get more sales.
8. Manually Upload products
Are you concerned about how to dropship on Alibaba? No problem. You need to import products.
How?
Here it is.
● Get products from your Alibaba suppliers
Choose what products you want to sell. You can visit your supplier store. Check the price. Get the products.
Extract the product details. Jot down the key points. Write the features of the products. You can copy and paste also to reduce the effort.
● Upload them to store
Have you got the details? Let's upload them.
In Shopify or WooCommerce, you can manually upload the products. From A to Z, you need to get the information from the supplier product and upload them in the following ways.
Write a detailed description of your products.
Add benefits and features.
It is better to have a video of your item.
● Capture Product Photos
If you do not have the product photos, why worry?
Work with an experienced photographer. Or use professional companies to photograph your item. Ensure the photographer has:
Taking High-quality images is like increasing the appetite of the viewer. Therefore, you should use HIGH-RESOLUTION IMAGES.
Doing 360 degrees photography is a GAME-CHANGER here. Try it from different angles to capture the photos.
● Add a video
Most sellers don't add a video. I think it is one of the biggest problems I have ever surveyed. It decreases sales. A seller that uploads a video has 50% more chances for sales.
And I don't think anyone wants to miss this chance.
Hire a videographer. Set up an Excellent theme to record excellent 4K videos. Describe your products in detail in the given video.
That is how you'll get more probability of sales.
● Optimize Product Listings
Optimization with the KEYWORDS and excellent description is the key. You should know the pain points. For this reason, you can explore tons of product reviews from other suppliers.
Get an idea of how customers are reacting. What they love the most. What they want more in the product.
Adding all the critical features in the description will catch the buyer's sight. And the results you already know.
SALES….SALES…..INFINITE SALES…..
9. Order Fulfillment Process
The order fulfillment process initiates whenever you embellish your store. Offer discounts and give excellent offers. And here are more.
● The customer orders the product
Suppose you have a seller store on eBay. First of all, customers will visit your products. Read their description.  And then decide whether to order you or not.
When a customer orders, it is the point where you need to fulfill your order.
● Get the customer's Address
Before the customer pays, Shopify or eBay needs the address to ship. If the customer has the default address, it is excellent. Otherwise, the customer has to add the shipping address.
● Know your supplier
It is time to contact your supplier. And tell them you have received an order.
There are two options here.
Fulfill by yourself. You can hire a shipping service. Arrange a product delivery from supplier to customer.
Ask the supplier to fulfill. The supplier can also fulfill the order. You need to remind the supplier about the customer's address.
Choose whatever method is easy for you.
● Get Tracking ID
A tracking ID is a code for your order tracking. With its help, you can know where your products have been received.
Customers are much concerned about their delivery. To reduce their concerns, you should get the tracking ID from the supplier. Update it on the shipping page. And let the customers track the order.
● Ship orders
The very next point is the delivery. Your shipping service will transport the products from the supplier to the customer.
Be in contact with your buyer. Ensure they have received the orders. Later you can confirm and ask for honest reviews about the product.
Product returns and handling are some critical issues here.
10. FAQs
Is it legal to dropship on Alibaba?
Dropshipping on Alibaba is 100% legal. You don't have to worry about anything. Just ensure your products are legal and don't violate any laws. Moreover, for electronic or dangerous products, you need certifications to sell.
Have them in your hand to sell the products.
Pros and Cons of Dropshipping on Alibaba?
Alibaba dropshipping has the following pros and cons.
A large number of suppliers.
Trade assurance for safety.
The cons are:
Tips to safely dropship from Alibaba?
Dropship Alibaba can involve potential scams. Therefore, you should follow some tips to be on the safe side. Here are tips.
Ensure to trade through the Trade Assurance Program.
Never Pay suppliers outside the Alibaba platform.
Use Alibaba safe payment options.
Negotiate and test the quality before you make a final order.
Setup realistic expectations and measure the progress of the supplier then.
Conclusions
Alibaba dropshipping Shopify is an important topic. You make thousands of bucks in profits. Come up with a better strategy to sell.
Before you do Alibaba dropship Shopify, always hunt the products. Ensure you sell the quality. And give FASTER shipping. Such tips will make you successful one day.