15 simple steps to wholesale import cheap products from China
First, you need to know the import situation of the corresponding products in your country/region as required by law. Some countries generally prohibit the import of special items, such as alcohol products, if you do not understand, may lead to customs officers confiscated your goods.
Next, you should master the custom duties and import duties that must be paid when custom clearance.
You should also be aware of the import license required to import from China.
A good place to look for wholesale suppliers is Alibaba. There you will find a lot of wholesalers, but you have to be careful and do extensive research and investigation before working with suppliers because there are so many fake suppliers. You should also make sure to use alibaba.com to protect yourself from scammers and suppliers.
If you are not a professional, it is difficult to tell which is the factory. This can be a hassle for many buyers because if you find a supplier that is not a factory, you will have to pay more for your purchases.
We collecting the Alibaba supplier information on the first 20 pages of electronic products, there are about 10,000 + suppliers for your reference. You can find our related products on Youtube. You can also find the full supplier Info sheet on our website justchinait.com.
The supplier information sheet contains the name of the supplier, years of operation, supplier level, supplier profile, transaction volume, response time, response rate, type of business, main products, number of employees, etc.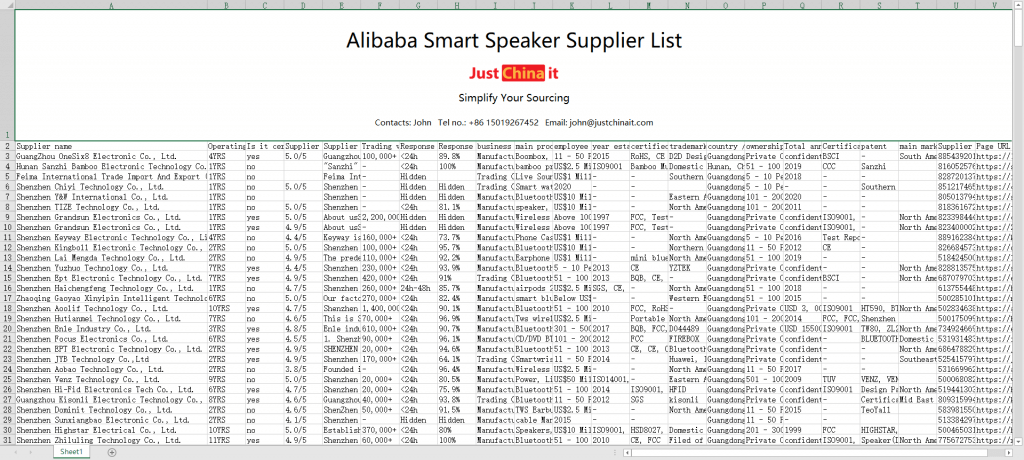 In addition, you can use online directories such as the yellow pages to search for vendors.
In fact, the first time you search for a vendor, the Internet wasn't enough. There is nothing like meeting with different suppliers to check on product quality and actual negotiations. This will save you a lot of time and resources. Better find a local before you get here.
You should do extensive research to find out the different prices offered by each seller. Prices vary in China, and you may be surprised to find that products sold for $20 in one place can go as low as $5 in another. You have to be careful so that you don't get a bad product. Another thing is to pay attention to the minimum order quantity for each supplier to ensure that you can afford it.
Dropshipping can help you save a lot of overhead, such as storage, shipping, sorting and even staff costs. When you use the courier service, you only have to worry about marketing and advertising your product. Once your customer places an order, the supplier will ship the product directly to the buyer.
As a first-timer, it would be unwise to commit to just one supplier. You may want to pool your money so that you can buy from 2-3 suppliers, and when you are satisfied with the supplier's product, you can commit to him.
It is wise to ask for samples before you continue to buy from the supplier, so that you can weigh the quality of its products. For example, Chinese sizes are often smaller than those in Britain and the United States, and sometimes clothes bought from China are not the right size. Also, it's hard to judge the fabric by looking at the photo. Sometimes, the content shown in the photo is completely different from the actual product. To avoid this situation, it would be wiser to obtain samples from the supplier before buying in bulk.
Some vendors offer free shipping options, while others do not. It would be wiser and more helpful to choose a vendor that offers free shipping, so you can reduce your costs.
The best thing you can do for your import business in China is to establish personal relationships with your suppliers. Ask for their phone number and Skype address so you can talk to them at a personal level and discuss your needs with them. You can also do this to avoid scammers.
You may want to consider renting a warehouse or storage space to hold the goods when they arrive.
If you are going to spend a lot of money on this business, it would be wise to seek legal help. Your lawyer will be able to draw up contracts and agreements between you and your suppliers to protect your investment.
Importing from China is a risky business, and you never know what you're going to get. There is a risk of being defrauded, the risk of goods being seized and several other situations, but you can protect your business by getting insurance.
Find ways to sell and distribute goods. You can use online platforms such as E-bay or Amazon to sell your products. You can also create your own online mall to sell your products. Because you won't be the end-user of your product; it's wise to ask your customers for comments so you know how to improve.