Exclusive Tips on Importing from China
Today I'm going to show you some exclusive tips on importing from China that gets:
Why you should import from China.
How to import from China.
What to import from China.
Let's move in.
Chapter #1 What to Remember when Importing from China
Why should you import from China?
There are many reasons why importing from China is good for importers and their business, especially if they are starting or a start-up. One of these is the availability of the products. There are many best goods to import from China, most of them are everywhere. The majority of these products are made in China or assembled in China. For instance, In 2019, the World Integrated Trade Solution (WITS) released a chart that lists all the countries with food imported from China. According to WITS, 167 countries have their food imported from China. However, the top partner countries with the highest food import are:
France
Australia
The United State
The Netherlands
New Zealand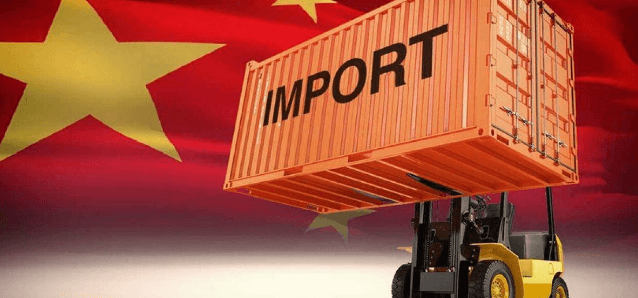 China also allows importers to buy in bulk, which is much cheaper than buying in separate parts or 10-100 pieces only. Also, it can make higher profits since importers can price their products more affordable. There are factors too why importing from China is a great choice (much for US importers), such as:
China has many resources and materials viable in the market.
The labor cost in China is much cheaper compared to other countries.
Imports from China to USA are cheaper.
China can sustain mass orders and unique product design.
How to import from China?
Importing from China is not always straightforward as it appears to be. It is challenging and does not always go as planned. There are steps and requirements to take to thrive in importing from China. However, the best method to import from China is to use decent services like Alibaba and Made in China. There are steps you can take when importing products from China using these services, such as:
Decide on the products you want to import.
Then you can identify which suppliers or manufacturers are suitable for your business.
You need to contact them through the third-party platform you chose or in the details they provided. Mostly, they have emails or WeChat. Note to discuss important matters like price, MOQ, shipping, and other costs.
Order sample products first to ensure that you get the products you want.
What are the profit potentials of importing from China?
Many businesses and companies make lots of money based on importing from China. For example, Dave Bryant of EcomCrew made at least $867,000 in 2016 when he sold0 his first business Anchoring.com, which source their products from China. They continue to use their business and make a significant profit through the years.
However, you have to note that your profit potential depends on how much money you fund in your business. For example, you spent $1000 on products; hence, you would expect to make $2000 to $3000 at the end of the year. In that case, the numbers are possible to reach. However, many importers expect their money would double or increase each year but invest little, which is an issue. The rule is that the higher your investment is, the larger your profit potential.
What are the import requirements?
Legal requirements are something you should not overlook. It is a vital factor to not run from the law. Here are some of the requirements and permits you need when importing from China.
Documents required by customs for imports from China
The following are the standard details and documents (required and secondary) you need to have:
Purchase Order
Packing List and Commercial Invoice
Proforma Invoice
Letter of Credit
Country of Origin Certificate
Insurance Certificate
Health Certificate (for food products)
What is the cost of importing goods from China?
It is not new how China costs cheaper compared to local products, but the thing is, there is an additional cost you need to pay, especially if you are from the US. The following are some of the charges associated with importation that you should be aware of:
Transportation Cost
Transportation costs will vary depending on which incoterms you and your supplier choose. You can choose from many transportations, air, sea, train, or truck. Among these, we suggest choosing sea-freight since it cost much cheaper.
Fees for the warehouse, inspection, and port of entry
All imports from China to the USA are all subject to examination. This examination can be expensive in various instances and sometimes add up. There is also import tax from China to USA and import charges from China to US. It will only depend on which products you will import.
Fees charged by customs brokers and agents
Working with custom brokers and agents comes with fees. However, they will be worth it as it makes importing from China easier.
Chapter #2 What are the Best Import Product from China to your Country
China to the USA
The United States is China's largest importer and trading partner. In fact, in 2017, both China and USA has traded $711 billion worth of goods. Until now, the United States remained as China's top import destination.
US biggest imports from China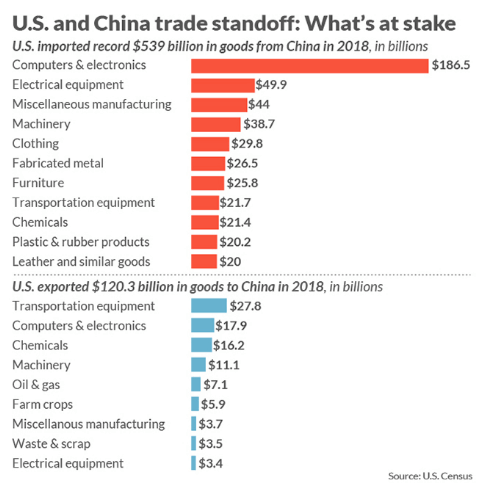 The following are the US biggest imports from China:
Toys
Footwear
Furniture
Machinery
Tea
Bedding
Electrical equipment
Soybeans
Grain
Import tax from China to USA
The import tax from China to the USA varies based on the products, goods, and services on your imports from China to USA. It is the reason why these tariff procedures appear confusing to new importers. To start, you have to be aware that products priced at $800 or more are all liable to the US custom tax, but these taxes are not applied to any products or goods that amount to less than $800.
These are two China-US tariffs that you should note:
Merchandise Processing Fee (MPF)
The MPF is a rate charged to all the imports from China to USA. The US Border and Customs Protection put further details on these charges on their website.
Furthermore, MPF is classified into two according to their value:
Imports valued at less than $2500 have charged: US$2, US$6, or US$9 per cargo.
Imports of goods worth more than $2500 have charged: 0.3464 % of the products' value.
Note: The minimum MPF is US$25, and the maximum MPF is US$485.
Harbor Maintenance Fee (HMF)
HMF is a tax on imports that are shipped by sea. However, the present rate is merely 0.125% of the cargo value.
Import duty from china to USA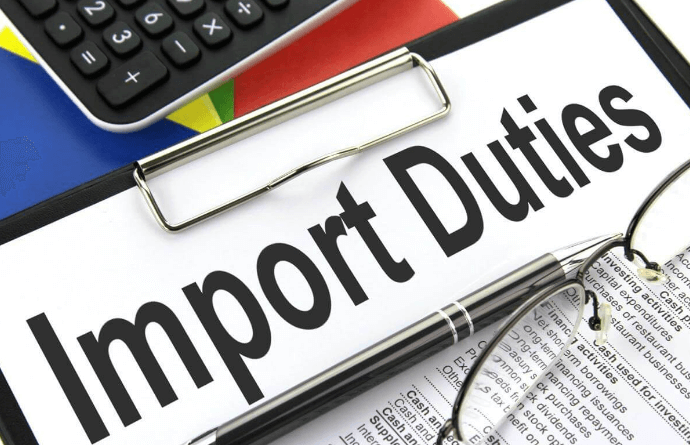 The following is a list of imports from China to USA, along with their relative tariff rates:
Tablet/Computer: 0%
LED bulbs: 3.9%
Solar panels: 0% of the total
Electric powered bicycles: 0%
Peanuts: 131.8 %
Wristwatches: 9.8% + US$1.53 per unit
Import charges from China to US
As mentioned above, import duty from China to USA varies depending on various factors. In addition, you can calculate the import duty from China to USA using the HS code. HS coding allows you to be sure that the business invoice is correct.
You can also use "declare value." This declared value will determine the customs value. If you are a first-time importer, you need to see that include the declared value in the commercial value given by the supplier. Otherwise, you can end up paying the incorrect amount.
China to Japan
One of the largest importers of China is Japan. Japan's imports from China account for around $120 billion of almost $550 billion worth of imported commodities each year. Some of these imports are:
Equipment for machinery
Medications
Mineral fuel
Plastics
Medical equipment
China to Africa
Importing from China to Africa has been going on for a long time. Most countries from Africa like Nigeria, Morocco, Egpyt, and Kenya are top importers. Their main imports include:
Communication devices
Equipment for gaming
Toys
Cloths
Cutlery
China to Mexico
Importing from China to Mexico is quite tricky because of the distance. Still, it's not impossible since the Pacific Ocean divides them greatly. Mexico imports 17.6 percent of its total commodities from China, amounting to more than $74 billion.
The following are the essential imports of Mexico:
Machinery
Import cars from China
Electronic equipment
Toys
Medical Supplies
China to Australia
In 2017, the value of trade between China and Australia was $129 billion. This number means that Australia gets a large number of imports from China.
Mainly, China imports daily items such as:
Furniture
Computers
Clothing
Bottled wine
Electronics
China to UAE
One of the top county that import items from China is the UAE. Chinese imports make up 11.45% of UAE imports, around $26.5 billion. Mainly they import power tools from china, electronic devices, and machinery.
In addition, some of the best imports from China to the UAE are:
Furniture
Vehicles
Plastics
Iron
Steel
Since we have mentioned the steel products, in 2022, there will be a 0% import duty on steel from China. As cited by Jessica Zong of FastMarkets, based on the notice given by the Ministry of Finance on December 15, 2021, this 0% charge will cover all steel materials.
China to Russia
Russia is one of the longest trading partners of China. It is why their net imports were worth around $48 billion in 2017. Here are some of the best imports from China to Russia:
Medical equipment
Cars
Footwear
Chapter #3 What are the Benefits of Importing from China
Low-cost price
Most of the import items from China are relatively low compared to other countries. Even the product imports from China to USA comes at low prices too. You can even negotiate the cost of products down to a meager price from the one given. It is why you can resale these products to ten times the original price. Hence, it is beneficial, especially to the first-time importers.
New and unique products
China's manufacturing industry is constantly improving with its materials, resources, and equipment. It is not surprising that suppliers and manufacturers cater to the products you want. Most of them can make products, even unique and rare ones.
Payment terms
One of the benefits when importing from China is their payment terms. There are different modes of payments; according to Dan Harris, these payment terms are:
Prepayment in full by T/T
30% T/T deposit and 70% T/T payment after the quality check
T/T deposit of 20%, 50% payment after production, and quality check. Followed by 30% pay after delivery.
Letter of credit (L/C)
If there is no deposit, the entire T/T payment is due two months after shipment.
High-profit margins
When you import items from China and sell them, you can earn up to (100-1000%). The reason for this is the low-cost product that you will buy, then pricing it higher later on.
Your online business will rise faster
As the E-commerce and online business grew in recent years, it opened up to many opportunities. For instance, you can provide a chance to individuals who want to sell your products as resellers. You can also do drop ship or resell yourself. Nevertheless, your business will still rise if you handle it properly.
Chapter #4 What are the Mistakes of Importing from China?
Ignoring the basic rules and communication
Most of the time, import and export processes require you to understand the trade rules and regulations of importing products from China. We suggest that you thoroughly investigate import laws, the legitimacy of your supplier, and the regulation of your product. Many Chinese suppliers make products that don't meet international quality requirements. s it appears, Only 5% of Chinese suppliers abide by these rules, so it is best to research, communicate, and know what you are vending.
Selecting a bad supplier
You are liable for the product as the importer. It is why you are responsible to customs if wrong things happen with your import. At the same time, you are liable if your products injure someone. Before signing a contract with a supplier, ensure you know their production process, where their materials came from, and who you are dealing with.
Using the wrong incoterms
Incoterms are vital since they contain the importer and exporter's rules in doing global transactions. You must note this one: to avoid confusion about the cost, shipping, risks, and duties. There are three most used incoterms in China, these are:
Ex Works (EXW)
CIF (Cost, Insurance, and Freight)
FOB (Free On Board)
Not prepping ahead of time
Always plan ahead of time because time and delays are still an issue when importing from China. Any faults or problems can cause massive delays and interruptions in your shipping most of the time. Would it be a hassle, right? So make sure you polish everything from the start, especially if you are a first-time importer.
Not knowing how to do business in China
Your goal should be to keep a long-term relationship with your supplier or manufacturer. It will be hard to do without learning their ways and language. Keep in mind their cultures and business practices—you don't want to lose a contract over a simple misunderstanding.
Chapter #5 15 Tips on Importing from China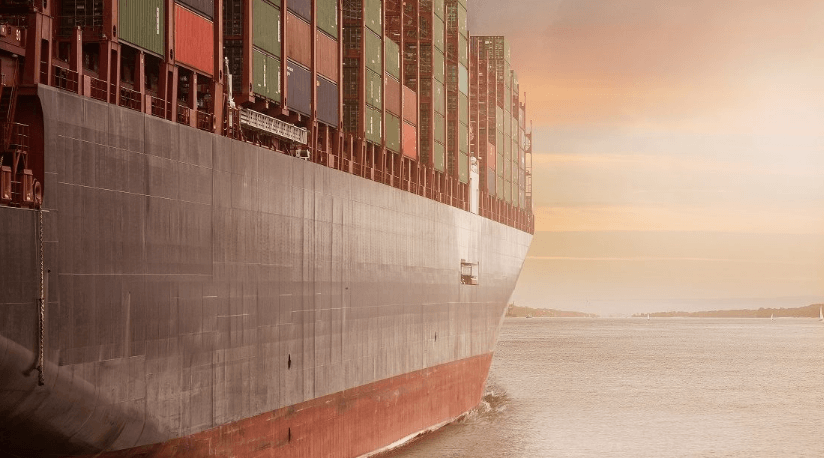 Create a list of your import goals
It is a smart move to have a clear sense of which products you want to import and what you want to do before importing from China. A list of products and goods should start sourcing suppliers that offer low-cost yet high-quality ones.
Determine your import rights
All people from any country can import products and commodities from China. No rule in China limits Chinese imports as long as it abides by the law. However, there are some of the import rights you need to familiarize if you come from these countries:
If you are in the US, you don't need a pass or license from the US Customs and Border Protection license. However, you need to prove citizenship in the form of a social security number. You may also opt to present your company's Internal Revenue Service Number (IRS EIN).
If you are in Japan, anyone who wants to import items from china should notify the Director-General of Customs. In this way, you can have an import permit.
If you are in Canada, you must have a Business Number from the Canada Revenue Agency (CRA).
If you use EURO, you need to register as an economic operator (EORI number).
Select best goods to import from china
Different imports like food imported from China are the best and most profitable. According to Vishal Gupta, here are the top 10 best goods to import from China:
Grater, Peeler, and Cutter
T-shirts for kids with printed designs
Elastic Jeans Buttons
Nail Art Designs and Nail Art Stamper
Cutlery Set for Kids
Desk lamps
3 in 1 Mini Survival Tool
Mobile Phone Holder
IR remote that is universal
Virtual Reality Glasses
Check if your chosen items are legal to be imported into your country
Importation of some products is illegal in China. Although some of the laws of various countries have different rules, you still need to do your research. As an importer, it is your part to check the items you want to import and see if they follow laws, prohibitions, and regulations.
Here are some of the items stay away from when importing from China:
Food imported from china
Vegetables and fruits
Nuts
Dairy products like milk and cheese
Livestock and Animals
Meat and poultry products
Tobacco Products
Drugs
Animal Fur
Alcoholic Beverages
Gold and Silver
Seeds
Flammable Fabrics
Insects
Lighters
Compute your items' landed costs
A landed cost is a computation used to establish your company's bottom line. These landed costs take into account the fees of the products as it travels from your supplier and factory to your location. These fees include the prices of the products, shipping rates, insurance, custom, and other costs needed for the shipment.
Select a reliable supplier
You need to confirm if the supplier is legit and apt to meet all your requirements. You need to be aware of your supplier's connection, how they make products, product quality, and communication. In this way, you can build a good and long-term relationship with them.
Build a relationship with your supplier
As mentioned above, creating a tie with your supplier is vital when importing from China. Most of the time, new importers and first-time buyers ignore this part. Once you have chosen your supplier, it is time to connect with them. You can achieve this by being respectful and kind to them, and, if possible, send a little present.
Keep in mind that hundreds and thousands of importers are looking for a good supplier. If it is not a win-win situation for the both of you, they might walk away and find better clients.
Negotiate the best deal possible
You will be surprised how far negotiating can take you and your supplier. However, it is not impossible to arrive at the best deal for you and your supplier. Most Chinese think that importers or future buyers should build a relationship first, then the transaction will follow. The goal is to create ties based on benefits and value.
Knowing which is beneficial for you and your supplier and taking notes of your supplier's goal will aid in your bargain. For example, you will order varieties of products in exchange for a low-cost price. You can read more of our negotiation guide here.
Have a clear contract
One thing you must not do is sign a contract without understanding its content. The contract must have everything, especially the payment, payment method, delivery, currency payment, and all the agreements you and the supplier have agreed.
Request free freight prices
Requesting freight prices to your supplier will allow you to know how much shipping your products will cost. We recommend working with a freight forwarder or China shipping agency like JUSTCHINAIT to ensure that you will not have a problem with customs when importing from China. You can also do it yourself, like calculating all extra costs such as import taxes.
Prepare your shipments
There are different modes of transportation that you can use. Even if you are importing goods using air freight, sea freight, air express, cargo, or regular post, you must choose doable and cheaper. In addition, make sure that you arrange and prepare the shipment two weeks before everything is complete.
Note: It is good to have cargo insurance since it is much cheaper than the costs needed to pay if your package or cargo is lost and damaged. You can see the rates offered by a forwarder or an insurer if you want.
Know the import taxes and duties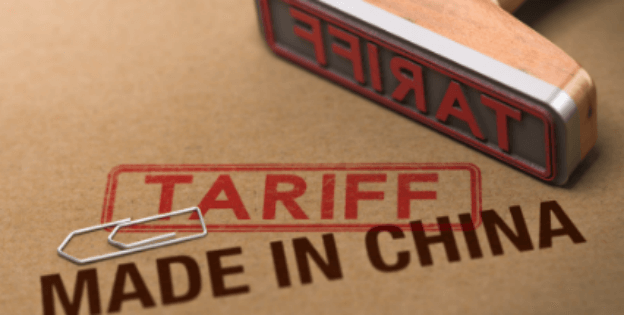 As an importer, you must know everything you need to pay when importing from China to your country. You should research whether you need to pay for pay import VAT or if you have to pay for import duty from china. However, the import taxes and duties depend on the products' type, where they came from, and how much they are.
For instance, VAT is payable and charged for all the goods and products imported outside the European Union. If you are from the US, you need to pay an import duty from China to USA. It is either an ad valorem (% of value) or any specified dollars/cents per unit. At most, the import duty from china to USA ranges from 0% to 37.5%, with an average of 5.63%.
Keep your intellectual property safe
There are issues wherein your product design or prototype will be similar to others. These cases happen because your supplier or manufacturer sold it to someone else. Most of the time, new importers and first-time buyers are victims of the risk of losing the intellectual property of their products.
As a result, businesses and importers imposed an IP protection strategy that is legal and practical and will help them in the long run. This strategy is far more complicated than simply holding a patent and trademark registration in China.
Choose the right Incoterms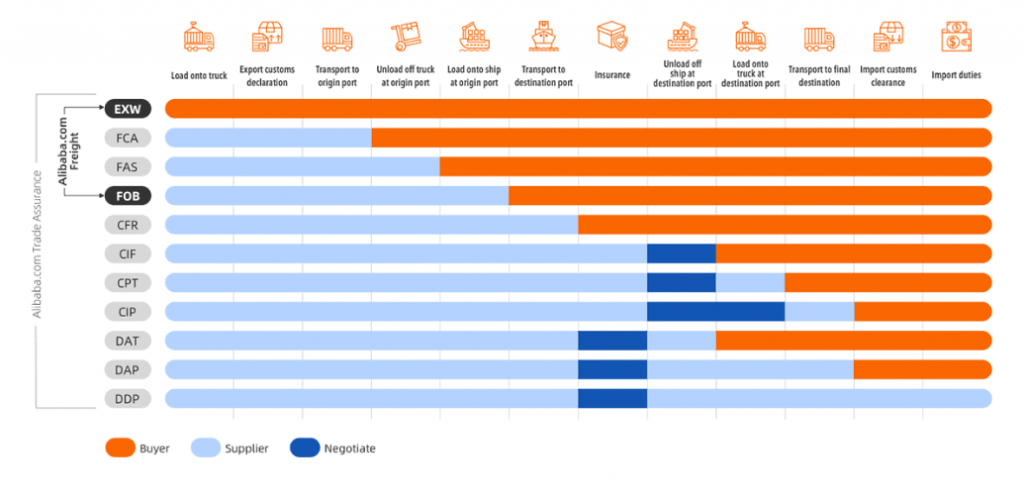 Shipping is the last part of your "importing from China" process. Hence, this is where the incoterms will come in. Incoterms are a set of standard freight phrases used in international contracts. Mostly, it is essential and needs to be followed by the importers and exporters.
The following are the three incoterms options:
EX Works (EXW)
Free To Carrier (FCA)
Free on Board (FOB)
Make contact with a sourcing agent
Your importing process from China will be more accessible when hiring a sourcing agent. They will do everything for you. Furthermore, they are experts in this field, so your supplier, product prices, shipping, and negotiation will be more successful.
It is best to inform your agents what you want and what you are looking for instead of going through the trouble yourself. For sure, they will give you a response in no time.
In JUSTCHINAIT, we will be your sourcing partner. We have hundreds of lists of legit and trustworthy suppliers and companies that import from China. We are also an expert in running Chinese businesses for over 16 years. Working with us can make your "importing from China" a victorious experience.
Chapter # 6 How to Import Items from China to the US
Import cars from china
When you import cars from China to your country, conditions and requirements are needed. One of these requirements is; only the legal residents can import cars from China and not allow for people with business or tourist visas.
At the same time, one importer is allowed one import cars from China and will push through if the Customs Office authorizes it. China does not allow cars to be imported; hence, you need to pay an additional fee, which is expensive.
Cosmetics import from china
There are various processes before an importer gets a cosmetics import from China. In countries with developed markets like the United States, Europe, and Australia, cosmetics import from China is always checked.
It is why you need to ensure the ingredients, labels, and materials used to make your products. They should also be registered with the authorities. If you are from the US, checking the US Food and Drug Administration website is helpful.
Here are some basic rules to remember that your country may set on cosmetics import from China:
Labeling regulations
Registration requirements
Testing requirements in the lab
Needs for documentation
Substance regulations
Import electronics from china to us
One of the best goods to import from China to US is electronics. In fact, in 2015, $2.309 trillion import electronics from china to us reached the highest monetary worth making it the US biggest imports from china. And it ranges from 14.45 of overall imports into the United States each year.
Here are some of the best Import electronics from china to us:
Integrated circuits
Insulated wire
Phone system devices
Electrical converters
TV receivers
Import books from china
You can import books from China of all kinds, whether fiction, children's, or non-fiction. There are no restrictions when importing books from China; you are good to go as long as it abides by the rules and regulations.
Beef imported from china
Among the most popular food imported from China is meat like beef. The beef imported from china rose 18% year over year and with the double growth from the top 10 countries, including US and Australia.
Chapter #7 FAQs on Importing from China
Do I need license to import from China?
As noted above, some products are prohibited and cannot be imported from China. And most of the countries like the US and UK might require an import license from the import items from China.
How much is the import duty from China?
Import duty from China varies from various countries and the products. As per the International Trade Administration, there are different tariffs rates that the China Customs implement, here are the six of them:
Most-favored-nation (MFN) rates
General rates
Agreement rates
Tariff rate quota rates
Preferential rates
Provisional rates
Among these rates, the import duty from China to USA is the MFN rate because China is a WTO member.
How to import items from China:
How to import accessories from China?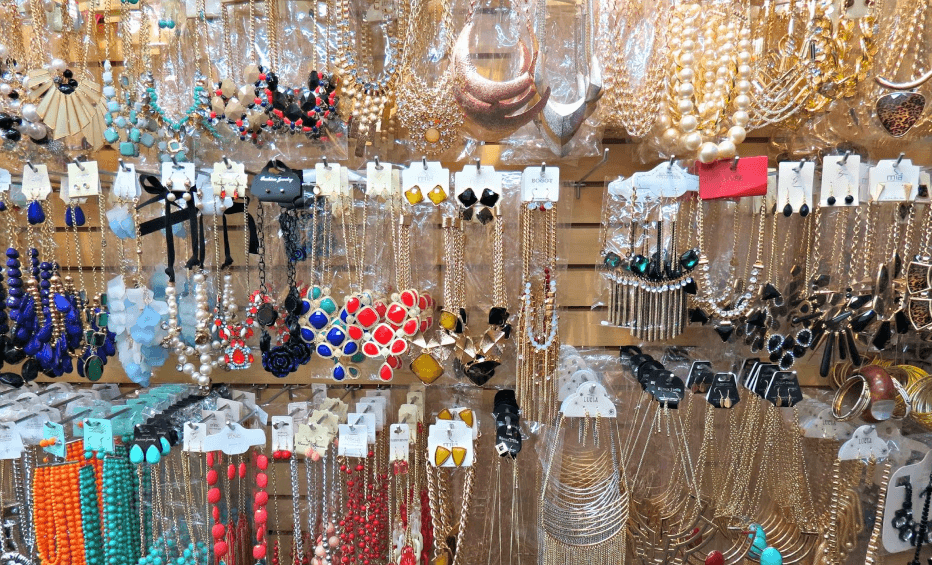 Importing accessories in China is easy since these products are not prohibited. As long as you follow the importing process, you can source the best products and suppliers. However, there is a compliance test needed when importing accessories from China.
Some countries have restrictions on importing jewelry, so these test documents came in handy. There are two tests conducted, the physical test and the chemical test.
How to import solar panels from China?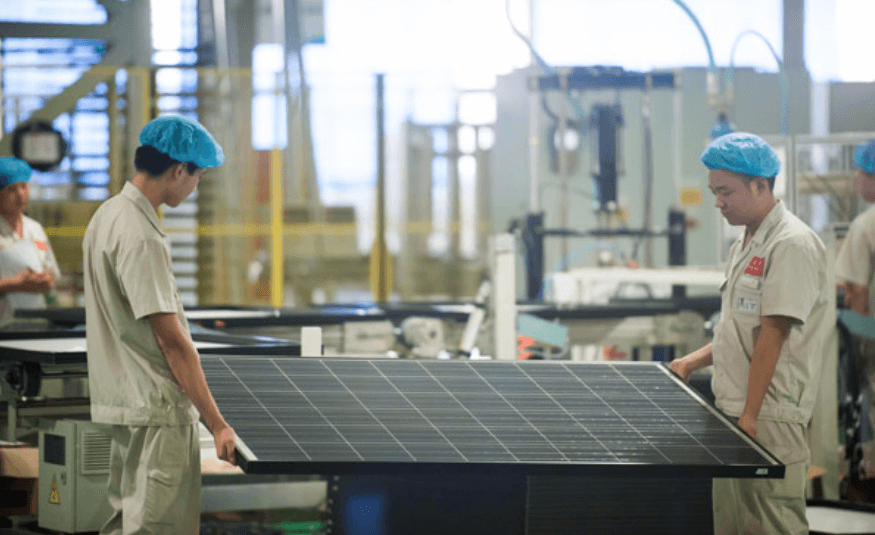 China offers various solar panels that are affordable. However, most of the time, manufacturers and suppliers have a minimum order quantity (MOQ) based on the effect of the product (W). For example, a MOQ set at 10000 W. You need to order product samples of the solar panel first before ordering a large quantity.
Here are some of the companies that import from China with their product solar panels:
Jiangsu Sokoyo Solar Lighting Co., Ltd.
Zhejiang Perlight Solar Co., Ltd.
Jiangsu Infinity New Energy Co., Ltd.
How to import tires from China?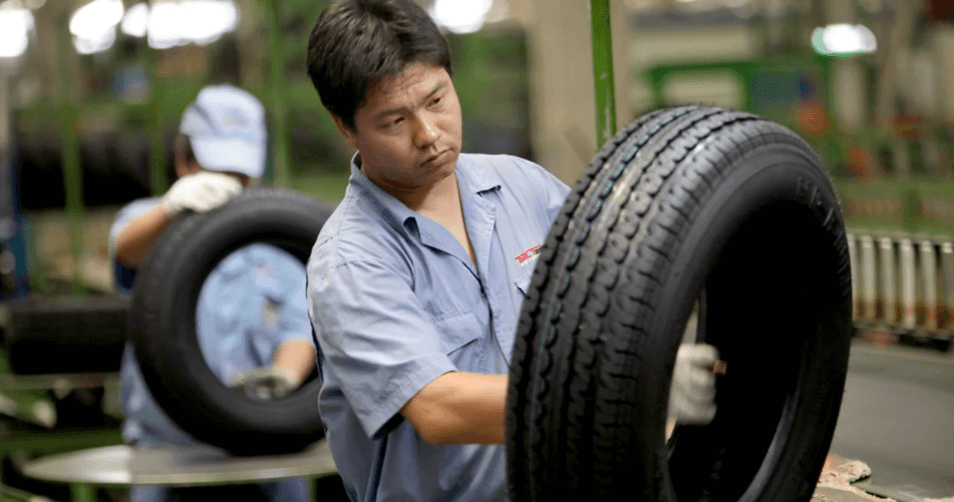 Importing tires from China is legal and workable. However, before you can successfully import tires, your supplier or manufacturer and yourself need a license to keep importing them as an importer. This rule applies to all countries, but most of the time, tires come from China.
Suppose you have tire imports from China to USA. In that case, you need to ensure that the tires meet National Highway Traffic Safety Administration (NHTSA) requirements. If not, it can cause delays in shipping, and they might seize all the non-compliant items at the time of imports.
Some tires also need to have a mark with them. The Department of Transportation gives these marks (DOT), which complies with the Federal Motor Vehicle Safety Standards.
Other marks include:
Maximum weight capacity
Maximum tire inflation pressure
The number of sidewall plies and plies in the tread
How to import power tools from China?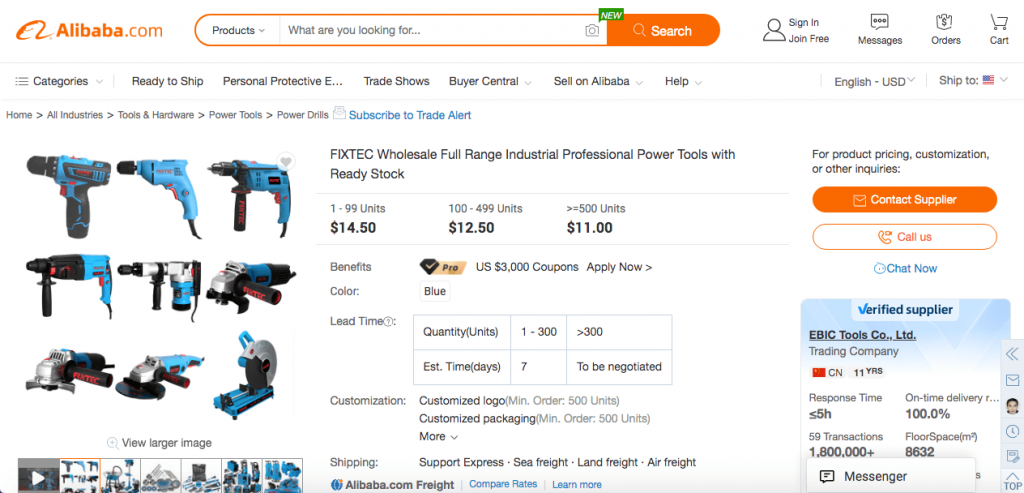 According to Ethan Nazarov of Ronix, there are eight steps that you can take when you want to import power tools from China.
It is better if you inform yourself on your import rights.
Select the Products You Would like to Import.
Verify if the tools you want to import into your country.
Calculate the landing cost.
Locate a reliable power tools supplier, possibly in websites or third-party platforms.
Make your shipping arrangement.
Keep track of your order.
Make sure you get your order.
What is the best food imported from China?
According to Chen Huizhi of Shine News, the food imported from China in the first nine months of 2020 is worth US$124.4 billion, which is larger than the other years. They also state that there is top three best food imported from China are the following:
Meat and meat products
Seafood and seafood products
Milk products
In addition, products like dried fruit, spices and seasoning, and nuts also grew as one of the top imports.
What are the best goods to import from China?
The best goods to import from China are those profitable ones. Chinese vendors will offer you low-cost prices to sell at a much higher price. Some of the products that will give you a high return are:
Makeup
Electronics
Fashion Accessories
Clothing and Apparel
Pet supplies
Home and garden products
Kitchen supplies
Lights and Lighting